Rihanna omaggia il nuovo episodio di "Star Trek", con Sledgehammer. Il brano verrà inserito nella colonna sonora del film, in uscita prossimamente.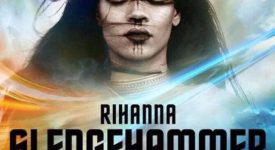 Ecco, dunque, il testo del singolo:
I hit a wall, I never felt so low, so low
Like a waterfall, my tears dropped to the floor (the floor…)
They left a swimming pool of salted crimes, crimes
(Ohh) what could I do to change your mind?
Nothing!
I'm bracing for the pain and I am letting go
I'm using all my strength to get out of this hole
I hit a wall, I thought that I would hurt myself
Oh I was sure, your words would leave me unconscious
And on the floor I'd be lying cold, lifeless
But I hit a wall, I hit 'em all, watch the fall
You're just another brick and I'm a sledgehammer…
You're just another brick and I'm a sledgehammer…
Yeah I hit a wall, I prayed that I would make it through (make it through)
I can't survive a life that's without you, that's without you, yeah
And I will rise up from the ashes now, the ashes now
Oh the sparrow flies with just the crumbs of loving spilled, yeah
I was bracing for the pain and then I let it go
I gathered all my strength and I found myself whole
I hit a wall, I thought that I would hurt myself
Oh I was sure, your words would leave me unconscious
And on the floor I'd be lying cold, lifeless
But I hit a wall, I hit 'em all, watch the fall
You're just another brick and I'm a sledgehammer…
You're just another brick and I'm a sledgehammer…
You're just another brick and I'm a sledgehammer…
(You're just another brick and I'm a sledgehammer…)