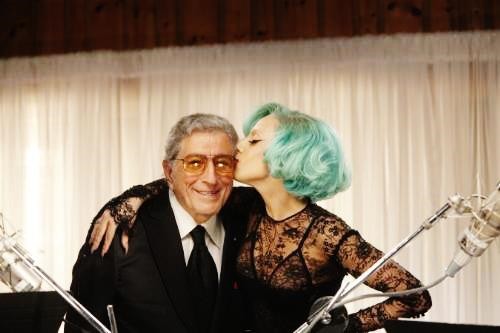 E' disponibile da qualche ora il nuovo video del duetto di Lady Gaga e Tony Bennett nel brano The Lady is a Tramp, estratto da Duets II, pubblicato lo scorso 20 settembre. La canzone è datata 1937 ed è tratta dal musical Babes In Arms di Rodgers and Hart; prima di Lady Gaga e di Tony Bennett avevano interpretato questo pezzo celebrità quali Frank Sinatra, Ella Fitzgerald, Sammy Davis Jr e Shirley Bassey. Dopo il salto potete gustarvi una piccola anteprima dell'elegante videoclip, in cui Lady Gaga appare in abito in pizzo nero e con la parrucca turchese.
http://www.youtube.com/watch?v=vmmb7R0j8Kw
Intanto segnaliamo le parole di stima usate dal crooner italo americano nei confronti di Lady Germanotta:
Lei è la più grande. Ti dirò, non ho mai incontrato nessuno con più talento di quella signora.
Nell'album Duets II è presente anche Body and soul, duetto di Bennett con Amy Winehouse. Ultima testimonianza artistica della cantante morta a luglio scorso a Londra.