YouTube è sempre più spesso il punto di partenza per l'affermazione di nuovi e interessanti talenti musicali. "Bastano" una videocamera, un po' di fantasia e spiccate capacità musicali per farsi notare.
E' una tendenza in rapida crescita che ha dato la fama già a moltissimi musicisti che non sono dovuti necessariamente passare per le forche caudine dei reality musicali per farsi notare (Carly Rae Jepsen vi dice nulla?).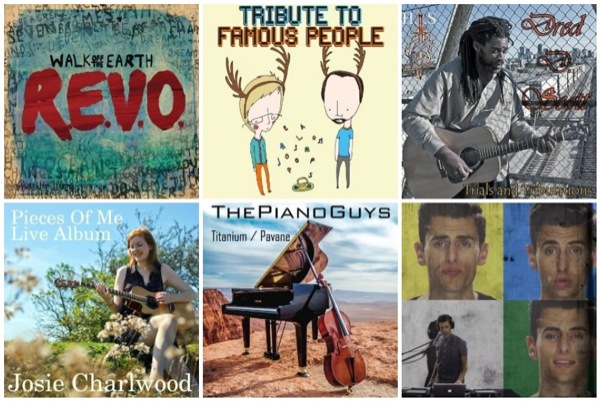 Per farsi un po' di pubblicità facile molti di questi artisti dimostrano le proprie capacità creative rivoluzionando i pezzi di altri, con delle cover che (a volte) sono quasi meglio dell'originale. In questa nostra classifica ne abbiamo volute scegliere 7 che a nostro parere spiccano fra le migliaia a disposizione.
7 – Umbrella – The Baseballs
Quando The Baseballs hanno postato su YouTube la loro versione anni '50 di Umbrella, la hit di Rianna, non erano dei perfetti sconosciuti. I tre berlinesi suonavano insieme già dal 2007, ma non avevano ancora sfondato. Il tubo li ha aiutati notevolmente e questa testimonianza vivente di come certa musica pop non sia mai davvero cambiata se non negli arrangiamenti ha potuto così scalare le classifiche di mezzo mondo.
Se ti piacciono: The Baseball – Strike Back su Amazon MP3 Store
L'originale:  Umbrella – Rianna
6 – Paradise – Mike Tompkins
Para, para, paradise! Anche se siete stufi di sentire l'ormai inflazionatissimo refrain della hit dei Coldplay fatevi forza e provate ad ascoltare (e guardare) la versione di Mike Tompkins, YouTube Artist noto per le sue cover a cappella in solitaria, realizzate grazie alla magia del green screen e del montaggio.
Vale la pena, anche se non siete dei fan degli ultimi lavori dei Coldplay.
Se ti piace: i singoli di Mike Tompkins su Amazon Mp3 Store
L'originale: Paradise – Coldplay
5 – Titanium – The Piano Guys
The Piano Guys non fanno nulla di realmente nuovo: prendono una hit e la suonano con un arrangiamento classicheggiante. Roba da far correre brividi lungo la schiena ai puristi, e che allo stesso tempo incontra il facile apprezzamento del largo pubblico. Sia come sia, questa versione di Titanium di David Guetta non è niente male e ve la proponiamo al quinto posto di questa classifica.
Se ti piace: Titanium / Pavane – The Piano Guys
L'originale: Titanium – David Guetta
4 – Feel Good Inc. – Josie Charlwood
YouTube è il mezzo perfetto per le One-Man Band "virtuali" create con il montaggio di più spezzoni. Facile, con i potenti mezzi della post produzione. Josie Charlwood preferisce la vecchia maniera e per questa sua interessante cover di Feel Good Inc. dei Gorillaz usa live il suo looper ed effetti in-line. Una One-Girl Band che merita il nostro 4° posto.
Se ti piace: Josie Charlwood su Amazon Mp3 Store
L'originale: Feel Good Inc – Gorillaz
3 – Purple Rain – Dred Scott
Sul terzo gradino del nostro podio mettiamo una cover acustica con una storia alle spalle che la rende speciale. Dred Scott è un homeless di Denver con uno spiccato talento musicale. Tyler Ward lo ha scoperto e l'ha aiutato ad aiutarsi, con la sua musica. Gli ha fatto registrare un EP e ha realizzato questo video con la cover di Purple Rain di Prince (o The Artist, se preferite) per pubblicizzarlo su YouTube.
Da applausi il primo commento al video: "And Justin Bieber is a millionaire? This world is fucked."
Se ti piace: Trials and tribulations – Dred Scott su Amazon MP3 Store
L'originale: Purple Rain – Prince
2 – Beat It – Pomplamoose
I Pomplamoose sono un duo formato da Jack Conte e Natalie Dawn che ha trovato la "fama" grazie ai propri video su YouTube. Sono bravi, hanno il look giusto e hanno scritto pezzi originali molto interessanti. A renderli delle vere e proprie star del tubo sono le loro cover, però: delle video-song in cui mostrano una notevole creatività musicale e arrangiano brani famosissimi con una freschezza e un'originalità che li rendono versioni uniche. Come questa Beat It di Michael Jackson, che potrebbe provocare un arresto cardiaco alle fan di Jacko e che a me invece (ora lo dico, ora lo dico)… piace più dell'originale.
Da non perdere neppure September, spettacolare versione Pomplamoose-iana della Hit degli Earth Wind & Fire.
Se ti piace: Tribute to Famous People – Pomplamoose su Amazon Mp3 Store
L'originale: Beat It – Michael Jackson
1 – Somebody that I used to Know – WOTE
Al primo posto non potevo che piazzare loro: i Walk Off The Earth. Quando ho scoperto questo video su YouTube, grazie ad un amico, l'ho guardato cinque volte. Il che non è cosa da poco, visto che quando i WOTE l'hanno pubblicato la (bellissima) canzone di Gotye aveva già superato ampiamente la soglia del "no, vi prego, basta, non mettetela un'altra volta".
Sono praticamente perfetti, incredibilmente bravi. Hanno voci da fare invidia, sono belli, sanno suonare tutti più strumenti. Non potevano che ottenere il successo che hanno ottenuto. Date un'occhiata alle date del loro tour mondiale e vi farete un'idea del fenomeno che sono diventati grazie ai loro video su YouTube.
In questo caso l'idea di suonare in cinque un'unica chitarra non è nuova, ma il gruppo la porta a un livello (estetico e sonoro) impareggiabile. Meritano in assoluto il primo posto di questa nostra classifica e non ci stupiamo neanche un po' del fatto che questo loro video sia stato visto circa 140 milioni di volte.
Se ti piace: R.E.V.O. – Walk Off The Earth su Amazon MP3 Store
L'originale: Somebody That I Used to Know – Gotye