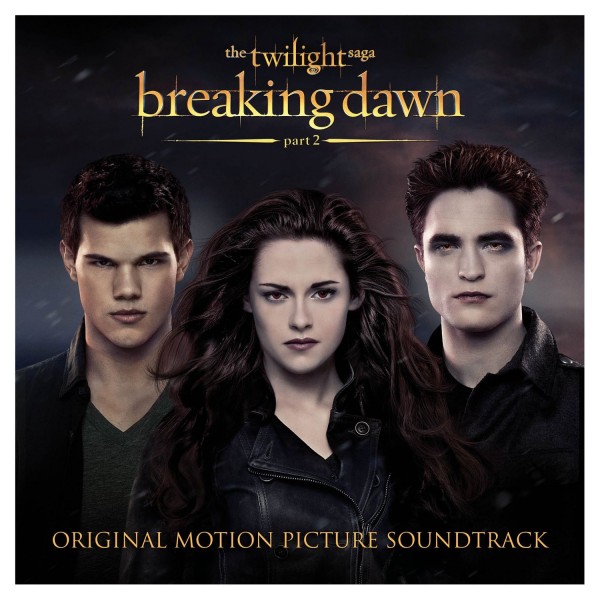 Titolo: Twilight, Breaking Dawn Parte 2
Regista: Bill Condon
Anno: 2012
Volge al termine l'avventura di Bella Swan (Kristen Stewart), l'adolescente innamorata del vampiro Edward (Robert Pattinson), con il quale ha avuto una bambina. Bella adesso è un vampiro dotato di grandi capacità, e sembrerebbe che anche sua figlia abbia dei poteri fuori dal normale, un fattore che metterà la famiglia Cullen in serio pericolo, coinvolgendo anche Jacob (Taylor Lautner) e il suo gruppo di licantropi.
Twilight, Breaking Dawn Parte 2 – La colonna sonora
Come per i precedenti episodi di Twilight, le musiche sono ad opera di Carter Burwell, brillante artista newyorkese noto per il suo sodalizio con i fratelli Coen, per i quali ha lavorato in ognuna delle loro produzioni.
Breaking Dawn Part 2: Original Motion Picture Soundtrack è composta da 14 tracce:
1. Passion Pit – Where I Come From
2. Ellie Goulding – Bittersweet
3. Green Day – The Forgotten
4. Feist – Fire In The Water
5. The Boom Circuits – Everything And Nothing
6. St. Vincent – The Antidote
7. POP ETC – Speak Up
8. Iko – Heart of Stone
9. A Boy and His Kite – Cover Your Tracks
10. James Vincent McMorrow – Ghosts
11. Paul McDonald & Nikki Reed – All I've Ever Needed
12. Reeve Carney – New For You
13. Christina Perri feat. Steve Kazee- A Thousand Years (Part 2)
14. Carter Burwell – Plus Que Ma Prope Vie
Per la prima volta nella saga vampirica tratta dai romanzi di Stephenie Meyer appare un pezzo dei Green Day, band punk rock californiana che aveva già prestato il loro sound per film come Austin Powers e Varsity Blues.