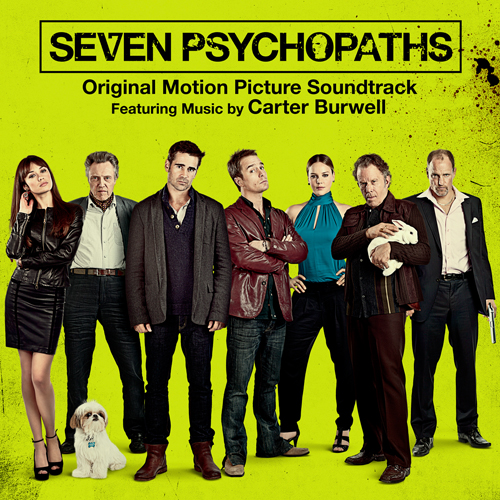 Titolo: 7 Psicopatici
Regista: Martin McDonagh
Anno: 2012
Dal regista di In Bruges, una nuova commedia nera dal cast più criminale che ci sia. Woody Harrelson, Colin Farrell e Christopher Walken coinvolti in una situazione rocambolesca a base di cani rapiti, religiosi violenti e blocchi dello sceneggiatore.
7 Psicopatici – La Colonna Sonora
Il Carter Burwell di questa pellicola sembra quasi un altra persona, soprattutto per chi ha conosciuto questo artista in ritardo, ad esempio con gli ultimi film di Twilight. Qui abbiamo un Burwell più antico, vicino a lavori come Blood Sample o Arizona Junior.
Seven Psychopaths: Original Motion Picture Soundtrack è composta da 19 tracce:
1 Angel of Death – Hank Williams
2 The First Cut Is the Deepest – P.P. Arnold
3 The Quaker – Carter Burwell
4 Berlioz: Strophes 'Premiers Transports Que Nui N'oblie [Romeo Et Juliette, Op 17 – Version With Original Parts. – Part 1] – The Monteverdi Choir And Orchestre Revolutionnaire et Romantique with Catherine Robbin
5 Zachariah – Carter Burwell
6 Angela Surf City – The Walkmen
7 Billy's Diary – Carter Burwell
8 Dirty Dishes – Deer Tick
9 My Lai – Carter Burwell
10 Country Dumb – Josh T. Pearson
11 Der Monde: Ach, Da Hangt Ja Der Mond! (Klein Kind/Chor) – Teresa Holloway, Philharmonia Chorus/Philharmonia Orchestra/Wolfgang Sawallisch
12 All Gray and Shit – Carter Burwell
13 This Movie Ends My Way – Carter Burwell
14 Stranded – The Walkmen
15 Billy's Ending – Carter Burwell
16 It Might – Carter Burwell
17 Seven Psychopaths – Carter Burwell
18 Different Drum – The Stone Poneys feat. Linda Ronstadt
19 Zach's Back – Carter Burwell
Tra i pezzi inclusi spicca l'apertura di Hank Williams. Uno dei più famosi e idolatrati cantanti country della storia americana, Williams è stato spesso omaggiato sia nel mondo della musica che in quello del cinema (famosissimo ad esempio il brano di Johnny Cash, The Night That Hank Williams Came To Town).