La soundtrack del nuovo, maestoso film dei fratelli Watchowski. Al timone il regista e compositore delle musiche di Lola Corre, qui in una veste tutt'altro che elettronica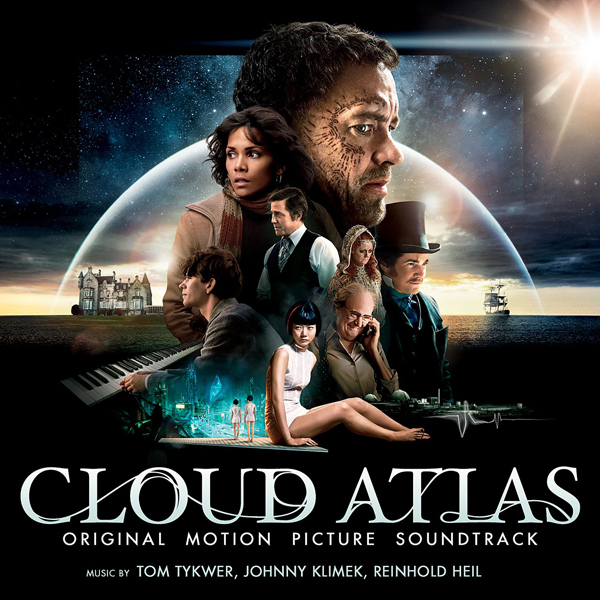 Titolo: Cloud Atlas
Regista: Lana e Andy Watchowski, Tom Tykwer
Anno: 2012
Una storia d'amore (diretta dai fratelli Matrix) che travalica i confini stessi della vita, ripetendosi tra le epoche in un crescendo di reincarnazione misto a causalità. Il tutto per un cast fenomenale, con Tom Hanks e Halle Berry nei ruoli dei protagonisti.
Cloud Atlas – La Colonna Sonora
Tom Tykwer, oltre che essere un grande regista (anche se in questo caso nel ruolo di vice) ha anche il vizio di unirsi a Reinhold Heil e Johnny Klimek per occuparsi delle musiche dei suoi stessi film. Una formula che riuscì brillantemente con uno dei suoi film più acclamati, Lola Corre, per il quale aveva realizzato una colonna sonora degna dei Prodigy. In questo caso invece l'elemento elettronico non è che una componente di una vastissima orchestra, variegata nello stile ma sempre maestosa e epica, segno che tutte quelle lezioni impartiteci da grandi artisti come Philip Glass non sono state ignorate. Un lavoro che è valsa la nomina ai recenti Golden Globe.
Cloud Atlas: Original Motion Picture Soundtrack è composta da 23 tracce:
1. Prelude: The Atlas March
2. Cloud Atlas Opening Title
3. Travel to Edinburgh
4. Luisa's Birthmark
5. Cavendish In Distress
6. Papa Song
7. Sloosha's Hollow
8. Sonmi-451 Meets Chang
9. Won't Let Go
10. Kesselring
11. The Escape
12. Temple Of Sacrifice
13. Catacombs
14. Adieu
15. New Direction
16. All Boundaries Are Conventions
17. The Message
18. Chasing Luisa Rey
19. Sonmi's Discovery
20. Death Is Only A Door
21. Cloud Atlas Finale
22. The Cloud Atlas Sextet for Orchestra
23. Cloud Atlas End Title
Da segnalare un pezzo che compare nel film, pur non essendo contenuto in questa raccolta. Si tratta di Looking For Freedom, canzone anni 80 scritta da Jack White (no, non quel Jack White) e cantata da David Hasselhoff (si, proprio quel David Hasselhoff).