Arriverà nei cinema italiani il 13 marzo 2014 "Her", il nuovo film di Spike Jonze che vede protagonisti Joaquin Phoenix e Scarlett Johansson, una pellicola che sta suscitando un notevole interesse dopo la vittoria di un Golden Globe e la candidatura a ben cinque premi Oscar.
Her, il cui titolo italiano è "Lei", oltre a vantare la regia di Spike Jonke, regista che ha dato vita a pellicole che hanno fatto  la storia del cinema come "Essere John Malcovich" e "Il Ladro di orchidee", può contare anche su una colonna sonora d'eccezione, per cui ha ricevuto due nomination agli Oscar 2014, uno proprio per la migliore colonna sonora e l'altro per la miglio canzone originale.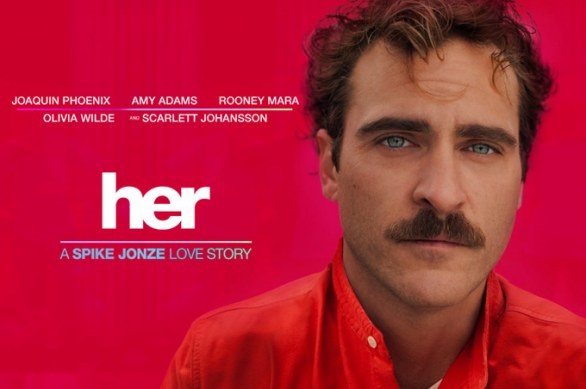 Her, la colonna sonora del nuovo film di Spike Jonze
1. . Off You – The Breeders
2. When You Know You're Gonna Die – Arcade Fire
3. Supersymmetry – Arcade Fire
4. Cleopatra in New York (Zim Zam Mix) – Nickodemus
5. I'm so Glad – Entrance
6. Need Your Love So Bad – Little Willie John
7. Sure Of Love – The Chantels
8. The Moon Song – Scarlett Johansson and Joaquin Phoenix
9. The Moon Song – Karen O
10. Alien Child – Will Collins
11. Magnesium – N.A.S.A.
12. Racing Turtles – Barrie Gledden, Tim Reilly and Jason Pedder
13. 8 Bit Disco No. 3 – Philip Guyler
14. Dimensions – Arcade Fire