Dal 27 al 30 agosto 2014 si svolgerà al Parco San Giuliano di Mestre, il Venice Sunsplash, l'evento divenuto oramai il principale appuntamento con il reggae di tutta la Penisola.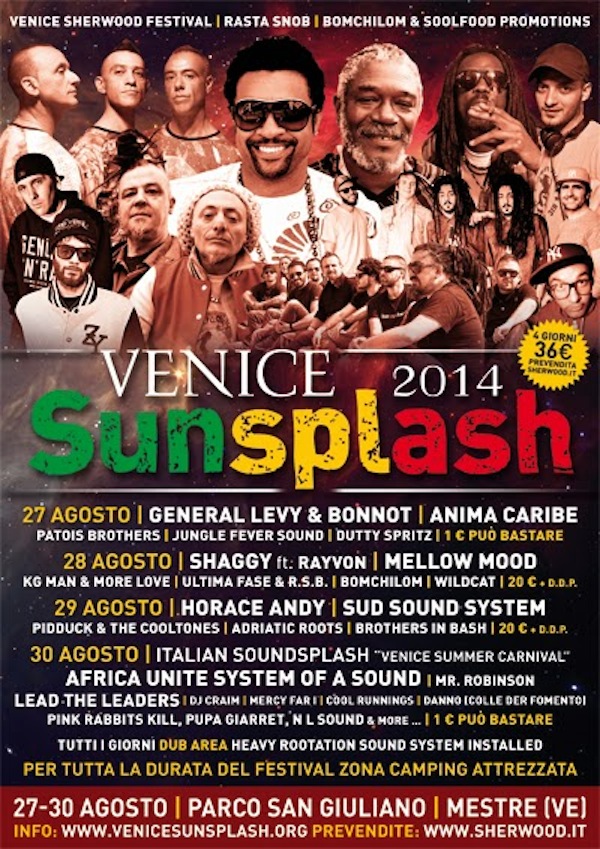 La terza edizione del Venice Sunsplash, avrà come nomi principali in cartellone Shaggy, Horace Andy e General Levy. Le aree del festival saranno quattro: main stage, second stage, dancehall area e dub area e ospiteranno live e dj set di artisti jamaicani e italiani.
Insomma, l'estate veneziana è sicuramente all'insegna della musica, dal momento che qui si è svolto anche il Venice Sherwood Festival, che si conclude oggi con Caparezza.
Ma ecco la line up dell'appuntamento reggae dell'anno:
Line Up mainstage del Venice Sunsplash (ore 21:00 – 24.00)
27/08 | GENERAL LEVY & BONNOT, Anima Caribe (1€)
28/08 | SHAGGY ft. Rayvon, MELLOW MOOD, Kg man & More Love (20 € + dp)
29/08 | HORACE ANDY, Sud Sound System & Bag A Riddim Band (20 € + dp)
30/08 | AFRICA UNITE SYSTEM OF A SOUND, LEAD THE LEADERS, Mr Robinson & more – all'interno del festival nel festival "Italian Soundsplash – Venice Summer Carnival", prima edizione (1€): 10 ORE DI MUSICA, 3 AREE MUSICALI, 9 DJ-SET.