Malato da tempo, se ne è andato proprio nel giorno del suo compleanno. Avrebbe compiuto settantanove anni.
Merle Haggard ci ha lasciati. Il musicista country tra i più conosciuti del genere assieme al leggendario Johnny Cash è scomparso in California il giorno del suo settantanovesimo compleanno, 6 aprile 2016, come ha confermato il suo manager Jim Dalla Croce.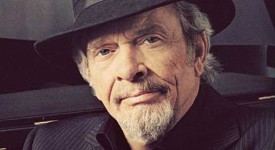 Merle Haggard era già malato e aveva dovuto cancellare diversi concerti per colpa di una doppia polmonite che ne aveva minato ulteriormente la salute.
Nato in California, Merle Haggard aveva iniziato a suonare la chitarra molto presto per avere qualcosa da fare oltre a compiere furtarelli, che lo portarono molto presto nel carcere di San Quentin (dove poi nel 1969 Johnny Cash avrebe registrato un live) con l'accusa di rapina a mano armata. Tre anni in carcere per Merle Haggard, che fece tesoro di quell'esperienza scrivendo le prime canzoni e debuttò direttamente nel 1962 con il brano Skid Row.
Tra i suoi brani più famosi scritti con il gruppo The Stranglers, coi quale contribuì a fondare e formare il cosiddetto Bakersfield sound (con la chitarra Fender Telecaster e la pedal steel guitar in prima linea per uno stile più rockeggiante, in contrapposizione al Nashville sound che invece era basato su ampi suoni d'orchestra), Merle Haggard ha inciso The Legend Of Bonnie & Clyde, Branded Man, I'm a Lonesome Fugitive, Okie from Muskogee, Big City.
Nel corso della sua lunghissima carriera, fatto di naturali alti e bassi legati anche a problemi di salute (e a consumo fisso di droghe quali marijuana e cocaina, come ammise candidamente lui stesso), aveva collaborato con numerosi artisti della scena country come Ernest Tubb, Gretchen Wilson, Buck Owens, Janie Fricke, Hank Williams, Jr., Porter Wagoner, Randy Travis, Dwight Yoakam e Jewel. Aveva inoltre duettato con l'attore Clint Eastwood nel suo disco country e con l'altro maestro del country americano Willie Nelson.