Il loro singolo di debutto "Sweater Weather" ha raggiunto la vetta della Billboard Alternative Chart, certificandosi due volte Platino e totalizzando più di 127 milioni di stream su Spotify.
Hanno suonato sul palco del Coachella Festival e a fianco di artisti del calibro di Bastille, Arcade Fire e Alt-j.
Stiamo parlando dei The Neighbourhood, ora con un nuovo album e per la prima volta in Italia per una data unica:
9 MARZO 2016 – MILANO @ ALCATRAZ
Apertura Porte: ore 19:00 Inizio Concerto: ore 21:00
Prezzo biglietto: posto unico: € 20,00 + diritti di prevendita
Biglietti disponibili su Ticketone.it ed in tutti i punti vendita Ticketone dalle ore 10.00 di venerdì 20 novembre, e in tutte le rivendite autorizzate dalle ore 10.00 di venerdì 27 novembre.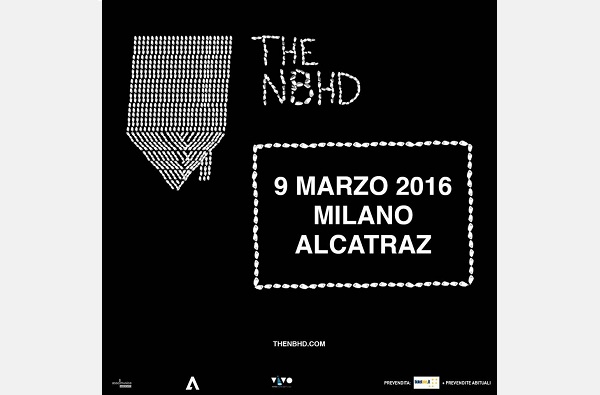 I The Neighbourhood arrivano dunque in Italia per la prima volta per un concerto unico, il 9 marzo 2016 all'Alcatraz di Milano.
La band alternative rock californiana si forma nel 2011, debuttando nel 2012 con i singoli Female Robbery e Sweater Weather, quest'ultimo contenuto nel loro primo album intitolato I Love You, pubblicato l'anno successivo in anteprima per Rolling Stone.
Sweater Weather conquista l'America, certificandosi disco di platino per ben due volte e raggiungendo la posizione n.1 della Billboard Alternative Chart. È solo nel 2013 che la band decide di pubblicare il video del singolo, girato tutto in bianco e nero che arriva a totalizzare più di 92 milioni di visualizzazioni.
Il 2013 vede i The Neighbourhood impegnati nel tour per la promozione di I Love You, che li porta a suonare sul palco del Coachella Festival, ad essere ospiti dei più importanti talk show americani come il Jimmy Kimmel Live e il Letterman, e a suonare al fianco di headliner del calibro di Arcade Fire, Alt-J, Bastille e Lorde.
Alla fine del 2014, la band californiana pubblica il mixtape #000000 & #FFFFFF sperimentando con le sonorità dell'hip-hop mescolate a quelle del rock.
Nell'agosto di quest'estate, i The Neighbourhood annunciano un nuovo album, uscito lo scorso 30 ottobre via Sony intitolato Wiped Out!. La tanto attesa band americana arriva finalmente nel nostro paese e promette un live pieno di emozioni.