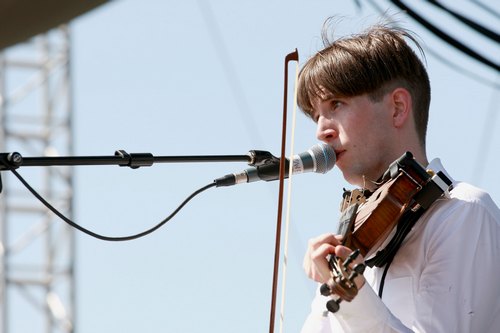 In un'intervista rilasciata a NME, Mike Shinoda, co-frontman dei Linkin Park, ha parlato di Owen Pallett (nella foto), il violinista ex Arcade Fire, che ha lavorato su I'll Be Gone, una delle canzoni che saranno contenute nel nuovo album del gruppo americano Living Things (la cui tracklist è disponibile in fondo al post).
Mike Shinoda ha rivelato che è stato il batterista Rob Bourdon a contattare Pallett; in particolare Shinoda ha spiegato:
Ha lavorato su una canzone. Abbiamo provato a farlo lavorare anche su un' altra, ma era parecchio occupato, quindi alla fine ho registrato gli archi per conto mio. Lui ha fatto gli archi su I'll Be Gone. Non l'ho incontrato di persona, ma credo che possa aver incontrato il nostro batterista Rob, visto che si sono scambiati un sacco di mail. Mi piace molto quello che ha fatto con la canzone e il suo lavoro con gli Arcade Fire è semplicemente sensazionale.
Living Things – Tracklist
Lost In The Echo
In My Remains
Burn It Down
Lies Greed Misery
I'll Be Gone
Castle Of Glass
Victimized
Roads Untraveled
Skin To Bone
Until It Breaks
Tinfoil
Powerless.
Photo Credits | Getty Images