Il tour della band partirà dall'Australia, passerà dal Giappone e si concluderà in Messico. E nel nostro Paese? Forse non ci saranno date.
I Radiohead partiranno prestissimo per un nuovo tour mondiale. Le date dal vivo sono 22 per ora: si inizia il 20 maggio dall'Heineken Music Hall di Amsterdam e si finisce il 4 ottobre al Palacio de los deportes di Città del Messico.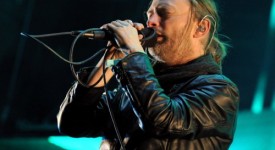 Ma la delusione per i fans italiani è notevole, dato che non sono previste al momento tappe nel nostro paese. Il tour della band di Oxford, il primo dopo la conclusione del giro di concerti per The king of limbs, concluso nel novembre del 2012 in Australia, toccherà Paesi Bassi, Francia e Regno Unito a maggio, Islanda e Spagna (per il già annunciato festival Primavera Sound di Barcellona) a giugno, Svizzera, Portogallo, Stati Uniti (con due date al Madison Square Garden di New York) e Canada a luglio, per poi arrivare in Giappone a fine agosto, a Berlino a settembre e nel Messico a ottobre. Al momento non sono previsti altri concerti da protagonisti per il 2016 ma non è escluso che siano annunciate altre date all'interno di festival.
Per gli esploratori più intrepidi, che vorrebbero approfittarne per visitare una o più capitali oltre i nostri confini, ecco la lista dei concerti dei Radiohead in Europa per il tour 2016:
05-20-21 Amsterdam, Netherlands – Heineken Music Hall
05-23-24 Paris, France – Le Zénith
05-26-28 London, England – Roundhouse
06-01 Lyon, France – Les Nuits Des Fourvieres
06-03 Barcelona, Spain – Primavera Sound Festival
06-17 Reyjkavik, Iceland – Secret Solstice
07-02 St. Gallen, Switzerland – Openair St. Gallen
07-08 Lisbon, Portugal – Nos Alive Festival
07-26-27 New York, NY – Madison Square Garden
07-29-31 Montreal, Québec – Osheaga Music and Arts Festival
08-04 Los Angeles, LA – Shrine Auditorium
08-08 Los Angeles, LA – Shrine Auditorium
08-20 Osaka, Japan – Summersonic Festival
08-21 Tokyo, Japan – Summersonic Festival
09-11 Berlin, Germany – Lollapalooza
10-03-04 Mexico City, Mexico – Palacio de los Deportes