Lo storico cantante Serj Tankian potrebbe registrare il suo nuovo disco di inediti con la 'vecchia' band.
Sono passati ben undici anni da Hypnotize, l'ultimo disco dei System Of A Down, e nonostante ben tre "reunion tour", la band non ha prodotto nessun nuovo brano.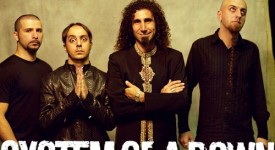 La "colpa" di ciò sarebbe del cantante Serj Tankian, che ha comunque una sua carriera solista di successo e che non sembrerebbe interessato a tornare in studio con Shavo, Daron e John.
In una recente intervista, la domanda sul "futuro dei System Of a Down" è stata come sempre inevitabile, ma questa volta Serj ha dato una risposta più positiva del solito:
Stiamo comunicando molto, stiamo provando a vedere se abbiamo materiale su cui si può lavorare. Stiamo davvero parlando molto, ci scambiamo idee. Non posso dire ufficialmente se avremo un nuovo disco o no, perchè non siamo nemmeno andati in studio. Ma stiamo comunicando, ci suoniamo dei pezzi di canzone, li confrontiamo. Vedremo che succede.
Sarebbe grandioso riuscire a creare qualcosa di nuovo in una nuova direzione musicale. Sarebbe molto eccitante, ma devono essere tutti d'accordo, e deve essere fatto in un modo da lasciare tutti contenti. Se riuscissimo a farlo, lo faremo.
A livello personale, ho scritto molte canzoni rock negli utlimi tempi, ma non so dove finiranno, con chi le registrerò.
Serj, dopotutto, negli ultimi nove anni ha registrato quattro dischi solisti, tre colonne sonore ed un disco jazz. E' chiaro che un pezzo "rock" di oggi potrebbe diventare musica per un film domani. Ma quando diventerà un brano nuovo dei SOAD? Nel Marzo 2015 Shavo aveva rivelato che qualche canzone era stata scritta, ma da allora il silenzio, mentre nel 2015 Daron diceva che "la band ha qualche problema"…