La versione americana del magazine Rolling Stones ha pubblicato un'altra delle sue interessanti classifiche. Dopo aver decretato il migliore chitarrista di sempre, Jimi Hendrix, i migliori artisti di sempre (i Beatles) e anche il miglior album di tutti i tempi (Sgt. Pepper's Lonely Hearts Club Band dei Beatles), la nuova classifica di Rolling Stones ci dice chi è il miglior performer live.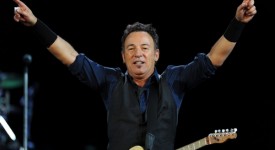 Rolling Stones america si è spinto nell'intricato territorio dei concerti live e ha stilato una lista nella quale sono state riservate anche delle interessanti sorprese.
Certo, il primo posto di Bruce Springsteen non sorprende molto, il Boss, d'altronde, è lui. Sorprende, invece, ad esempio, la lunga distanza che separa le due regine del pop: Madonna, che si è guadagnata la 30° posizione, e Lady Gaga, che è solo alle ultimissime posizioni della graduatoria.
La Ciccone e la Germanotta sono ritenute talmente brave che, secondo Rolling Stones, i loro live sono meglio anche di quelli dei Green Day e degli Sigur Ros, dei Queens of the Stone Age, almeno quelli di Madonna e dei Foo Figheter.
Top 50 migliori performer live secondo Rolling Stones
50. Fiona Apple
49. Taylor Swift
48. Green Day
47. Sigur Ros
46. Tool
45. Lady Gaga
44. Janelle Monae
43. Mumford and Sons
42. Skrillex
41. Tame Impala
40. Eric Church
39. Rush
38. Queens of the Stone Age
37. The National
36. Florence and the Machine
35. Bruno Mars
34. Foo Fighters
33. Beyonce
32. Sleigh Bells
31. David Byrne