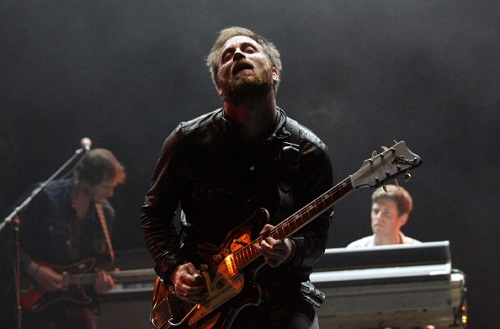 Ricchi premi e cotillon. La parata di star è andata bene anche quest'anno. Puntuale come la neve di febbraio arrivano i Grammy. Sono gli oscar della musica, un'occasione per capire come hanno suonato gli ultimi 12 mesi e chi ce l'ha fatta ad uscire dalla gavetta,  o a non retrocedere tra quelli che potrebbero essere dimenticati a breve.
Per non parlare delle tendenze. Forse qualcuno non si aspettava il trionfo di quel folk tanto chic da essere di gran moda dei Mumford & Sons? Ed ecco, dunque, il loro "Babel" ergersi a disco dell'anno, tra camicioni a quadri e un pizzico di nostalgia bucolica. Insomma più flanella per tutti.
Ma c'è pure qualcosina di meno prevedibile. "Le riprese le stanno facendo in alta definizione, così da casa potete vedere che non siamo molto giovani. Sono dodici anni che facciamo la nostra cosa", hanno dichiarato i Fun, ritirando i premi "Best New Artist" e "Song of the Year" per We Are Young. Una sorpresa è giusta ogni tanto.
E di giustizia si può parlare a gran voce quando Jay-Z lascia il microfono per i ringraziamenti a Frank Ocean: duetto o non duetto la scena è sua. Il rapper dell'anno non poteva non essere il più gay tra gli hiphopper della storia, anzi del suono di confine. Il suo "Channel Orange" è un disco semplice, bello, pop e rivoluzionario; sarebbe stato un assurdo non premiarlo.
Come anche Gotye: il prestigioso "Record of the Year" non poteva non andare alla sua Somebody That I Used to Know, in coppia con Kimbra. A porgerglielo è addirittura Prince; "Mi mancano un po' le parole nel riceverlo da questa persona qui dietro", ha dichiaato quasi commosso il vincitore, e il perché lo chiarisce subito: "Gli anni passati ad ascoltare la sua musica sono alla base del motivo per cui ho voluto iniziare a suonare".
Tutti giovincelli, insomma, se vogliamo. Ma sapere che i più osannati sono stati i Black Keys mette a posto anche le questioni anagrafiche. Le loro sette statuette sono un premio alla carriera e non per gli ultimi mesi. Il successo arriva prima o poi, sembra questo ciò che ne scaturisce. Che poi sia più una questione di fortuna o di pazienza poco importa: senza entrambe è ancora più dura. 
Questi tutti i premi:
Best Rock Song: Lonely Boy dei Black Keys
-
Best Rock Album: El Camino dei Black Keys
-
Best Comedy Album: Blow Your Pants Off di Jimmy Fallon
-
Best Reggae Album: Rebirth di Jimmy Cliff
-
Best Jazz Vocal Album: Radio Music Society di Esperanza Spaulding
-
Best Long Form Music Video: Big Easy Express, dei Mumford & Sons, Edward Sharpe & The Magnetic Zeros & Old Crow Medicine Show
-
Best Short Form Music Video: We Found Love, di Rihanna con Calvin Harris
-
Best Remixed Recording, Non-Classical: Promises (Skrillex & Nero Remix), di Skrillex, remixer (Nero)
-
Best Recording Package: Biophilia Michael Amzalag & Mathias Augustyniak, art directors (Bjork)
-
Best Pop Solo Performance: Set Fire to the Rain di Adele
-
Best Traditional Pop Vocal Album: Kisses on the Bottom di Paul McCartney
-
Best Country Solo Performance: Blown Away di Carrie Underwood
-
Song of the Year: We Are Young dei Fun.
-
Best Urban Contemporary Album: Channel Orange di Frank Ocean
-
Best Rock Performance: Lonely Boy dei Black Keys
-
Best Pop Vocal Album: Stronger di Kelly Clarkson
-
Best Rap/Sung Collaboration: No Church In The Wild di Jay-Z, Kanye West, Frank Ocean & The Dream
-
Best Rap Album: Take Care di Drake
-
Best Country Album: Uncaged della Zac Brown Band
- Best New Artist: Fun.
-
Record of the Year: Somebody That I Used to Know di Gotye e Kimbra
-
Album of the Year: Babel dei Mumford & Sons