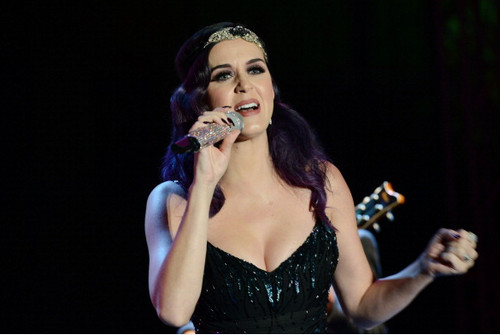 Katy Perry ha superato il dolore del divorzio trovando rifugio nella musica. La star, che si è separata da Russell Brand a dicembre dello scorso anno, dopo soli 14 mesi di matrimonio, si è buttata nel lavoro, incidendo canzoni come Part of Me, ispirata alla sua vita sentimentale.La prossima settimana verrà presentato in anteprima il video del nuovo singolo della cantante, Wide Awake, che lo ha definito una finestra sulla sua vita privata. Katy, a MTV News, racconta:
Ho voluto raccontare la mia storia per riuscire a prenderne le distanze. Ci sono lati belli e lati brutti, come in tutte le cose. Sicuramente l'anno scorso sono accadute molte cose importanti, che ho dovuto dapprima accettare e poi superare. Penso che la mia fede nella musica mi abbia aiutato a stare galla in questo periodo.
Katy ha fatto felici i suoi fan presentandosi a sorpresa alla prima del docufilm sulla sua vita, Katy Perry: Part of Me, al The Grove di Los Angeles, dove è stato presentato lo scorso mercoledì sera. Una fonte racconta a People:
Alcune ragazzine sono passate di corsa davanti allo schermo per avvicinarsi alla Perry che ha fatto il suo ingresso salutando i fan. La diva è riuscita a firmare alcuni autografi e anche a posare per qualche foto con i suoi ammiratori, prima che intervenisse la security a disperdere la folla accalcata intorno a lei. Katy continuava a sorridere e sembrava sinceramente emozionata. 
Photo Credits | Getty Images