Una festa in una casa volante, tenuta da una serie di lanterne cinesi accese. La grande cantante bondiana Shirley Bassey ha rielaborato la vecchia hit di Pink e l'ha pubblicata nell'omonimo disco del 2007.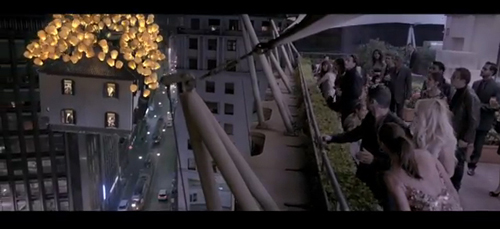 Titolo: Get the Party Started
Autore: Shirley Bassey
Album: Get the Party Started
Anno: 2007
Un gruppo di persone si raduna ad una festa portando delle lampade cinesi. Le lanterne accese tutte insieme fanno sollevare la casa e portano la festa in giro per la città.
Shirley Bassey è un vate della musica inglese. Indimenticabili sono i suoi interventi sulle colonne sonore di 007, tanto che le sue performance sono tuttora un modello seguito da chi gli ha succeduto, come Adele e Shirley Manson dei Garbage. Negli ultimi anni la Bassey si è spesso rielaborata in chiave odierna, con pezzi come History Repeating con i Propellerheads o il pezzo di questo spot, cover di una vecchia hit di Pink.