Per festeggiare i trent'anni di anniversario torna in onda una delle favole moderne più amate di tutti i tempi, con una indimenticabile soundtrack di John Williams.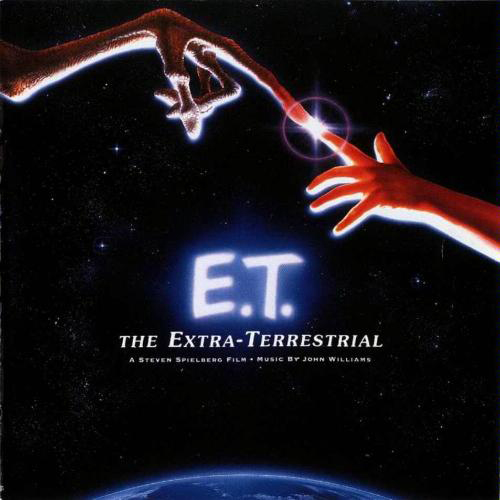 Titolo: E.T. L'Extraterrestre
Regista: Steven Spielberg
Anno: 1982
In occasione del trentennale dalla sua prima proiezione, torna nelle sale uno dei classici più amati di sempre. Un alieno atterra sulla terra e viene accudito da un ragazzino californiano. Tra i due si sviluppa un rapporto quasi simbiotico, ma il governo è a caccia della creatura per studiarla.
E.T. The Extra-Terrestrial – La Colonna Sonora
John Williams è un po' il padre del nostro attuale modo di concepire le colonne sonore. Moltissimi dei suoi temi hanno ancora risonanza oggi, da Guerre Stellari a Superman, da Lo Squalo a Indiana Jones. Tra i suoi lavori più recenti le musiche per Harry Potter e Tin Tin. Uno dei suoi figli è il cantante dei Toto e ha collaborato con Paula Abdul, Miles Davis e gli Yes.
E.T. The Extra-Terrestrial: Original Motion Picture Soundtrack è composta da 21 tracce:
1. Main titles
2. Far from home E.T. alone
3. Bait for E.T.
4. Meting E.T.
5. E.T.'s new home
6. The beginning of a friendship
7. Toys
8. I'm keeping him
9. E.T.'s power
10. E.T. and Elliott get drunk
11. Frogs
12. At home
13. The magic of Halloween
14. Sending the signal
15. Searching for E.T
16. Invading Elliott's house
17. E.T. is dying
18. Losing E.T.
19. E.T. is alive
20. Escape chase saying goodbye
21. End credits
Da segnalare una curiosità: pare che la traccia 20 sia talmente piaciuta a Spielberg che ha rigirato alcune scene solo per poterle fare andare bene a tempo con la musica di Williams.