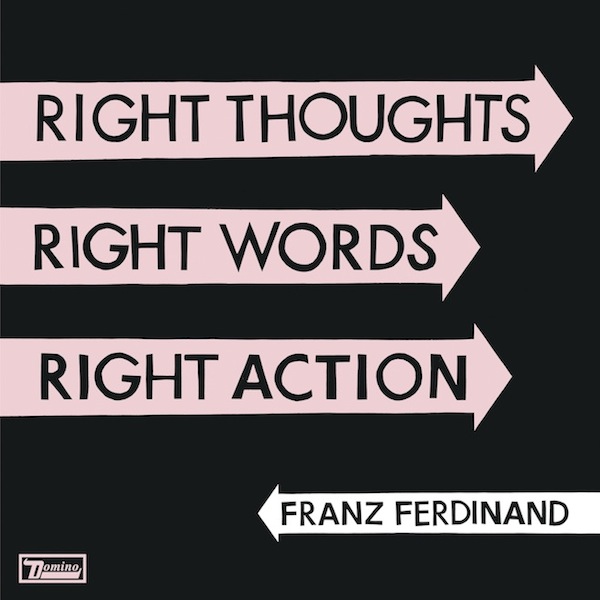 La notizia era nell'aria da qualche tempo. Ora, finalmente, è arrivata l'ufficialità. Il nuovo album dei Franz Ferdinand, quarto lavoro della band scozzese, uscirà il 26 agosto e si intitolerà "Right Thoughts, Right Words, Right Action". 
Un'ottima notizia per i fan della band indie rock di Glasgow, che attendevano un nuovo disco dal 2009. Tre anni fa uscì infatti "Tonight: Franz Ferdinand", fortunato disco del gruppo composto da Alex Kapranos, Bob Hardy, Nick McCarthy e Paul Thomson.
Come si evince da "Ulyssess", singolo che accompagnò il disco, "Tonight: Franz Ferdinand" fu lo spunto per una radicale trasformazione musicale. L'inserimento di groove vicini a New wave, Funk ed Elettronica segna il nuovo corso della band attiva dal 2003.
Cosa dobbiamo aspettarci, dunque, da "Right Thoughts, Right Words, Right Action"? Un nuovo sound? Nuove collaborazioni? Per ora, ciò che si sa è che il disco è stato registrato per metà presso il Sausage Studio di Londra, e per metà in casa del chitarrista Alex Kapranos. 
L'unico featuring confermato al momento è quello di Roxanne Clifford dei Veronica Falls. Il resto, per il momento, è tutto top secret. Ad ogni modo, i Franz Ferdinand hanno voluto anticipare ai propri supporter (sempre più impazienti) la tracklist dell'album, mettendo in rete solo i titoli senza i nomi dei featuring:
1. Right Action
2. Evil Eye
3. Love Illumination
4. Stand On The Horizon
5. Fresh Strawberries
6. Bullet
7. Treason! Animals
8. The Universe Expanded
9. Brief Encounters
10. Goodbye Lovers & Friends
I più attenti osservatori, però, troveranno su YouTube alcuni microscopici leak estratti dal disco e sparsi qua e là, un po' per distrazione e un po' per suscitare curiosità.