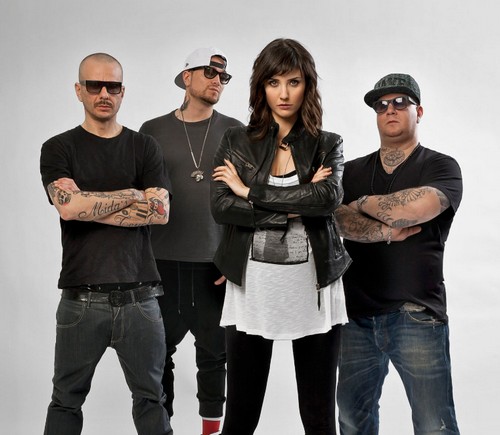 Sabato 5 maggio tornano i TRL Awards, giunti alla settima edizione. Per il secondo anno consecutivo l'evento sarà trasmesso in diretta su Mtv Italia (e in streaming su Mtv.it) da Piazzale Michelangelo a Firenze. A condurre la serata saranno Valentina Correani e i Club Dogo. Per i rapper milanesi si tratta del debutto alla conduzione. Dopo il salto i nomi degli ospiti e dei performer e le nomination.
Tra gli ospiti Alessandro Casillo, Emis Killa, Francesca Michielin, Marracash, Noemi, Sonohra ,Two Fingerz, Arisa, Conor Maynard, Dolcenera, Entics, i Modà, Young The Giant e i Tacabro.
A consegnare i premi ai vincitori saranno invece i Soliti Idioti, le protagoniste di Ginnaste, Riccardo Trombetta, Melissa Satta, Leonardo Fioravanti, Daniel Ricciardo, Celeste Gaia e Nicole Grimaudo. Ecco, infine le nomination musicali (le votazioni sono aperte fino a venerdì 4 maggio – per Best Fan e Best Tormentone, verranno chiuse invece durante la diretta di sabato 5 maggio).
Super Man Award
Fabri Fibra
Tiziano Ferro
David Guetta
Jovanotti
Marco Mengoni
Wonder Woman Award
Adele
Lady Gaga
Laura Pausini
Katy Perry
Rihanna
Italians Do It Better
Dolcenera
Emma
Giorgia
J-Ax
Marracash
Best Band
Club Dogo
LMFAO
Modà
Negramaro
Red Hot Chili Peppers
Best Video
David Guetta feat. Usher – Without You
Jovanotti – Il Più Grande Spettacolo Dopo Il Big Bang
LMFAO – Party Rock Anthem
Maroon 5 feat. Christina Aguilera – Moves Like Jagger
Katy Perry – Last Friday Night (T.G.I.F.)
Best New Generation
About Wayne
Emis Killa
Erica Mou
Power Francers
Lucya Russo
Best Look
Justin Bieber
Lady Gaga
Avril Lavigne
Marco Mengoni
Nicki Minaj
Best Fan
Alessandra Amoroso
BIGBANG
Emma
Avril Lavigne
One Direction
Best Tormentone
Avicii – Levels
Don Omar feat. Lucenzo – Danza Kuduro
Pitbull feat. Ne-Yo, Afrojack & Nayer – Give Me Everything
Swedish House Mafia – Save The World
Michel Telò – Ai Se Eu Te Pego.