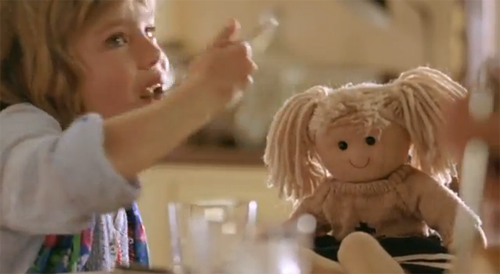 Titolo: Stay The Night
Autore: James Blunt
Album: Some Kind Of Trouble
Anno: 2010
Tre ragazzine giocano rumorosamente in stanza. Con il chiasso arriva automaticamente la madre di una di loro, che le porta in cucina a fare merenda. Si uniscono a tavola il papà, un fratellino e la bambola con cui giocavano.
Di James Blunt, in attività dal 2005, è noto il suo background militare: prima un soldato, ha poi abbandonato in favore della musica. Blunt ha ammesso che questo pezzo fu scritto soprattutto per creare qualcosa di nuovo, che non fosse eccessivamente drammatico come i suoi precedenti singoli. Con soli tre dischi all'attivo, ha ottenuto numerose nomination ai Grammy e vinto svariati Mtv Awards. Recentemente ha dichiarato di essersi preso una pausa a tempo indeterminato.