Si intitolerà "Il mestiere della vita"; in questi giorni l'artista sta registrando l'intero lavoro, tutto inedito, a Los Angeles.
Un volo per Los Angeles, che corrisponde all'inizio di una nuova ed entusiasmante avventura. Un'avventura che ha il sapore di un ritorno gradito.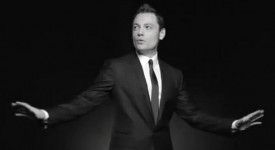 Tiziano Ferro è pronto a dare alla luce la sua ennesima fatica discografica. E' appena volato negli States per iniziare a registrare gli inediti che comporranno Il mestiere della vita. E' questo il titolo che ha scelto per il suo prossimo album, il quale ha già una data d'uscita annunciata: 2 dicembre 2016. Lontanuccia, ma al punto giusto per generare un hype che farà sicuramente breccia nel cuore dei media.
Ferro e il suo staff sono all'opera, dunque, ufficialmente. Il progetto arriva a due anni dalla pubblicazione di TZN-The Best of Tiziano Ferro (certificato 7 Platino per oltre 350 mila copie vendute, disco più venduto degli ultimi tre anni).
Era da qualche mese che non si sentiva parlare di lui. L'ultima volta? A fine febbraio, quando è stato nominato ambasciatore di "Save the Children".
Un ruolo di tutto rispetto per una delle voci italiane più note e apprezzate nel panorama musicale internazionale e nel nostro Paese, che ha scelto di diventare il nuovo ambasciatore dell'organizzazione sostenendola nel suo impegno a favore dei bambini in pericolo in italia e nel mondo. In quell'occasione dichiarò:
E' con grande onore e gioia che inizio questo viaggio con "Save the Children", che già da qualche anno seguo con interesse e stima. Mi auguro nascano tante idee e si possa fare del gran bene a chi ne ha bisogno. I bambini prima di tutto.
L'artista sarà in prima linea per supportare l'impegno dell'organizzazione che dal 1919 è dedicata a salvare i bambini e tutelarne in diritti, sostenendo le sue principali iniziative e campagne in difesa dell'infanzia. E nel frattempo preparerà il suo ritorno discografico a Los Angeles.