Momenti di tensione proprio in apertura del Festival di Sanremo, dopo pochissimi minuti di monologo di Fazio, due operai del Consorzio del bacino di Napoli e Caserta, in bilico dalla balaustra della galleria, chiedono di leggere una lettera di protesta che contiene il loro disagio per la situazione lavorativa.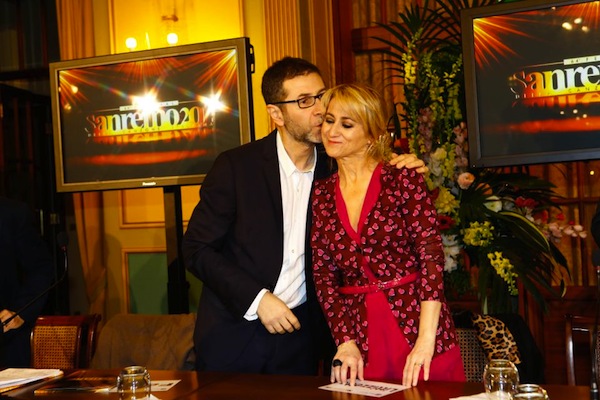 Rientrata questa emergenza la serata è proseguita con tranquillità, forse troppa. Si è partiti con l'omaggio di Ligabue a Fabrizio De André, che ha cantato "Creuza de ma" accompagnato da Mauro Pagani. Rivedremo il Liga nella serata finale.
Dopo aver letto sommariamente la lettera dei due operai, è arrivata sul palco Luciana Littizzetto, che a dire la verità, ha regalato qualche momento di leggerezza con le sue battute a questo Festival un po' sottotono. Ma vediamo quali dei brani dei cantanti in gara hanno superato il primo giudizio e sono stati legittimati a proseguire:
Arisa canta "Lentamente" e "Controvento", ad annunciare il verdetto Tito Stagno, passa "Controvento" con il 64% delle preferenze.
Frankie Hi-Nrg canta "Un uomo è vivo" e "Pedala", ad annunciare il verdetto delle votazioni sono le sportive Tania Cagnotto e Francesca Dallapè: passa il turno "Pedala".
Antonella Ruggiero: canta "Quando balliamo" e "Da lontano", i conduttori chiamano Amaurys Perez per l'esito del verdetto, passa "Da lontano".
L'inedito duo Raphael Gualazzi ft. The Bloody Beetroots cantano "Tanto ci sei" e "Liberi o no", a proclamare la canzone vincitrice tra le due è il professor Luigi Naldini, prosegue "Liberi o no".
Cristiano De Andrè canta "Invisibili" e "Il cielo è vuoto", annuncia la canzone che passa il turno Cristiana Capotondi, è proprio "Il cielo è vuoto".
IPerturbazione cantano "L'unica" e "L'Italia vista dal bar". Arriva Massimo Gramellini per l'annuncio della canzone che prosegue nella gara ovvero "L'unica".
Giusy Ferreri, l'ultima artista della serata canta "L'amore possiede il bene" e "Ti porto a cena con me", Bocci annuncia il verdetto, passa "Ti porto a cena con me".
In questa serata le canzoni non hanno particolarmente brillato, qualche momento scanzonato con Raphael Gualazzi e The Bloody Beetroots, testi interessanti per Fankie Hi-Nrg e Cristiano De André (anche se i pezzi migliori sono apparsi quelli eliminati), godibili i Perturbazione.
Per quanto riguarda i momenti di varietà si poteva anche evitare l'esibizione di Fazio e della Casta che hanno voluto in qualche modo omaggiare Monica Vitti e Alberto Sordi con "Polvere di stelle". Una sferzata di energia dall'inossidabile Carrà che promuove il suo disco dance, con un pezzo scritto per lei dalla Nannini. Da menzionare anche il ricordo, seppur timido, a Freak Antoni della Littizzetto.
Gran colpo di Fazio è stato quello di portare all'Ariston Cat Stevens (Yusuf dopo la sua conversione all'Islam), lontano dalle scene musicali da decenni, porta sul palco una semplice ma bella lezione di civiltà e la sua fantastica voce, gran finale con "Father and Son".
E Grillo? Dopo aver dato fuoco alle polveri della polemica davanti al Teatro Ariston, è entrato, si è seduto in platea, ha scambiato qualche battuta con Fazio durante la pubblicità, ma poi sopraffatto dalla noia è uscito, tenendo un nuovo monologo agli astanti del bar.
Cosa accadrà stasera? Intanto noi speriamo in un salto di qualità delle canzoni.