Dopo aver debuttato al Victoria and Albert Museum di Londra nel 2013 con uno straordinario record di pubblico (sono stati oltre 311.000 i visitatori in pochissimi mesi), arriva al cinema la più incredibile mostra mai allestita per il più camaleontico artista del rock internazionale: David Bowie.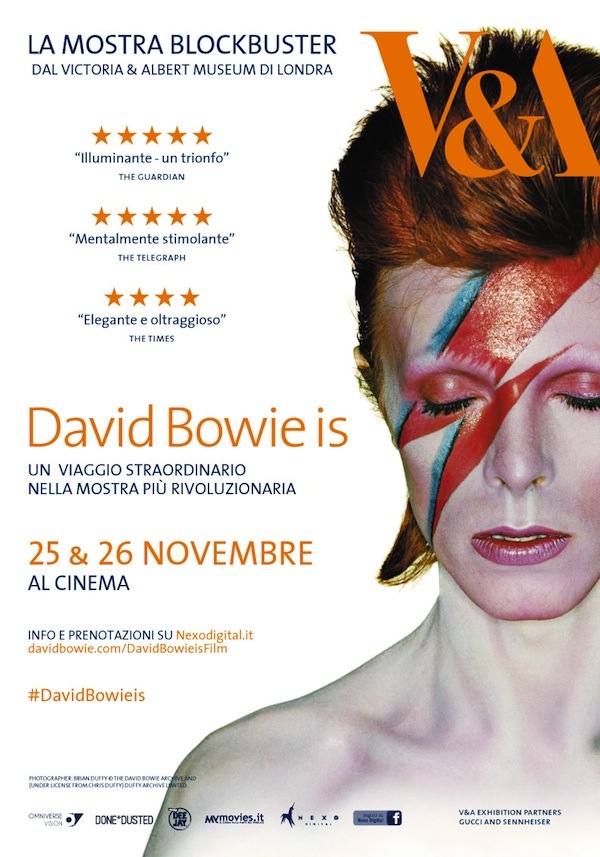 Arriverà nei cinema italiani solo il 25 e il 26 novembre prossimi.
Ecco il trailer di David Bowie Is
Girato tra le sale del Victoria and Albert Museum di Londra, "David Bowie Is" è un viaggio lungo 50 anni di carriera, innumerevoli trasformazioni e personaggi – dal Major Tom di "Space oddity" a "Ziggy Stardust", dal Thin White Duke di "Station to Station" al diafano post-rocker di "Heroes" fino ai trionfi di "Let's dance" e del più recente "The next day" – eccentrici costumi di scena e una colonna sonora composta di canzoni che hanno fatto la storia del rock.

Filmati, fotografie, testi scritti a mano, storyboard per i video, bozzetti di costumi e scenografie… Un patrimonio di memorabilia legati al mondo di un uomo che è stato in grado di cambiare la nostra cultura, dalla musica alla moda, dalle performance al design.
"David Bowie is" è stato girato e diretto da Hamish Hamilton, il regista Premio BAFTA degli Academy Awards e della Cerimonia di Apertura dei Giochi Olimpici di Londra 2012.