Prende il nome di "David Bowie Is", è stata realizzata dal Victoria and Albert Museum di Londra e arriverà in Italia a Luglio.
Ha già riscosso un enorme successo durante gli ultimi anni. Finalmente arriverà anche in Italia. Un po' in ritardo, ma si sa: nel nostro Paese è una prassi consolidata quella di ammirare alcune meraviglie dopo.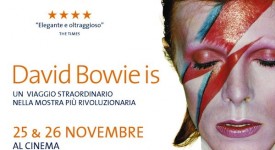 Stiamo parlando della mostra "David Bowie Is", realizzata dal Victoria and Albert Museum e dedicata al cantante scomparso qualche mese fa. La mostra è stata inaugurata nel 2013 a Londra, ed ha già fatto tappa a Chicago, San Paolo, Toronto, Parigi, Berlino, Melbourne e Groningen; ad accogliere il suo arrivo in Italia, dal 14 luglio al 13 novembre 2016, sarà il MAMbo – Museo d'Arte Moderna di Bologna.
David Bowie senza ombra di dubbio era un innovatore, un rivoluzionario; al punto che il cordoglio della sua morte ha trovato parola tra le personalità più disparate: il 10 gennaio 2016 tutti hanno ricordato e reso omaggio all'impatto che Bowie aveva avuto sulle loro vite: da Kanye West al Primo Ministro inglese David Cameron.
Nel corso della conferenza stampa di presentazione, tenutasi qualche giorno fa presso il MAMbo, la curatrice Victoria Broackes ha illustrato nella fattispecie i percorsi retrospettivi della mostra che guideranno il visitatore dentro al processo creativo dell'artista, dall'iconica saetta di Ziggy Stardust fino ad arrivare a Blackstar.
Per l'esposizione sono stati selezionati più di trecento oggetti dell'archivio personale del musicista: costumi, fotografie, testi originali scritti a mano, storyboard, strumenti, le cover degli album realizzate da Guy Peellaert e Edward Bell, estratti di video e performance live come The Man Who Fell to Earth, video musicali come Boys Keep Swinging e arredi creati per il Diamond Dogs tour (1974). Lo sapevate che ad ispirare il costume di Mr. Stardust fu il film di Arancia Meccanica? La mostra svelerà tantissimi retroscena in un percorso fatto di video, audio e oggetti personali.