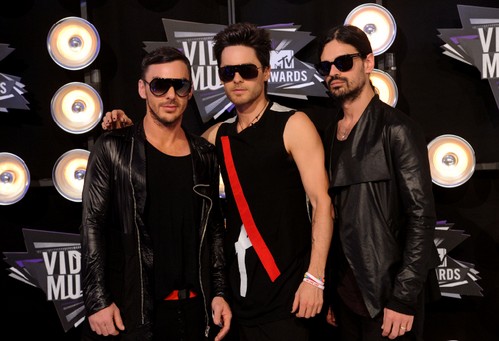 I 30 Seconds to Mars, il gruppo di Jared Leto, ha smentito le voci di un imminente scioglimento della band. Shannon Leto, batterista della band e fratello di Jared, ha affermato che non c'è mai stata nessuna dichiarazione ufficiale riguardo un'eventuale fine della band.
Questa è la dichiarazione di Shannon a Kerrang! Magazine:
Non abbiamo mai detto: "Questa è la fine". 
Jared, invece, ha aggiunto:
Penso che ci sia stato un punto interrogativo per tutti noi. Ad un certo punto, la gente ha cominciato a chiederci così tante volte del nostro futuro che la nostra reazione è stata: "Bene, parliamo del "qui e ora"". Quello è importante per noi.
I 30 seconds to Mars vengono da un importante tour di oltre 300 date in tutto il mondo. Jared ha commentato così l'esperienza:
Non sappiamo quello che il futuro ci riserverà, ma sappiamo di essere entusiasti e questo tour è il dono di una vita. E' un viaggio che facciamo senza guardarci indietro, è l'esperienza più gratificante della nostra vita.
Photo Credits | Getty Images