E' questa la strana proposta che è arrivata dalla band di Jared Leto che ha chiesto i fan dei 30 Seconds To Mars di tatuarsi una parte del testo del loro nuovo singolo, Do or Die, per poter aspirare ad avere qualche secondo di celebrità nel video che accompagnerà la sua uscita.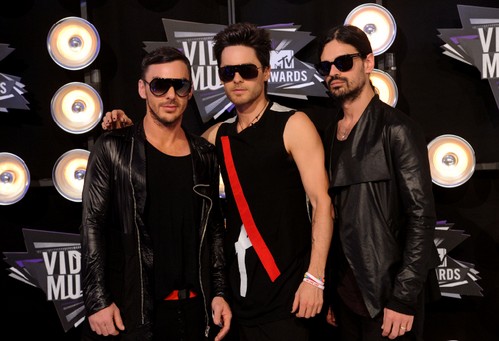 I 30 Seconds To Mars hanno pubblicato a maggio il loro quarto album in studio, Love Lust Faith + Dreams, e hanno annunciato che a breve pubblicheranno un altro singolo estratto da questo lavoro.
E fin qui tutto va bene. Se non fosse che per la realizzazione del video che accompagnerà Do or Die, questa la traccia scelta, i 30 Seconds To Mars hanno chiesto la collaborazione dei fan: sul sito della band è apparso ieri sera un messaggio con il quale i fan sono stati invitati a tatuarsi una parte del testo della canzone, filmare il tutto ed inviarlo.
Il premio per un gesto che sfiora la follia? La possibilità di far parte dell'Official Lyric Video della canzone. Naturalmente potranno partecipare al concorso solo i maggiorenni, ma l'iniziativa non sembra aver raccolto un consenso positivo, a partire dagli stessi fan ai quali è stata proposta.
In molti hanno definito questa iniziativa piuttosto pericolosa, sopratutto perché rivolta ad un pubblico adolescente che, come scrive una fan sul sito, potrebbero marchiarsi a vita il corpo solo per fare ciò che dice Jared Leto.