Gli abbonati Sky di tutta Europa saranno I primi al mondo a vedere il nuovo videoclip di David Bowie realizzato per il singolo ★ (Blackstar), tratto dall'omonimo nuovo album in uscita in tutto il mondo l'8 gennaio, giorno del compleanno di Bowie.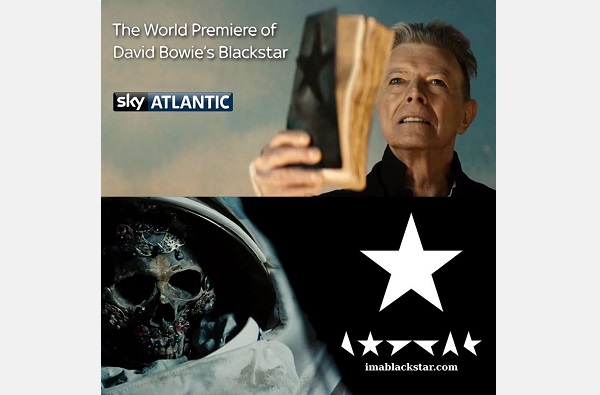 Il video, della durata di 10 minuti, sarà trasmesso in contemporanea e in esclusiva su Sky in Inghilterra, Irlanda, Italia, Germania e Austria giovedì 19 novembre per 21 milioni di abbonati, grazie ad una esclusiva collaborazione tra Sky, David Bowie e Sony Music. In Italia il videoclip sarà visibile in esclusiva giovedì 19 alle 23 e venerdì 20 novembre alle 20 su Sky Atlantic HD e su Sky On Demand.
Il brano è stato scritto da Bowie per essere la sigla di apertura della nuovissima serie crime The Last Panthers, che In Italia debutterà oggi 13 novembre alle 21.10 su Sky Atlantic HD e disponibile anche su Sky On Demand. Il video è diretto da Johan Renck, regista della serie The Last Panthers, serie in sei episodi, è una produzione paneuropea commissionata da Sky UK e dalla francese CANAL+, e vede come protagonisti la nominata agli Oscar e vincitrice di un BAFTA Samantha Morton insieme a Tahar Rahim vincitore di due Cesar, alla star croata Goran Bogdan e al due volte nominato agli Oscar e vincitore di tre BAFTA e di un Golden Globe John Hurt.
La serie è una co-produzione della francese Haut et Court TV ('The Returned') e dell'inglese Warp Films ('This is England') ed è diretta dall'acclamato regista Johan Renck (Bloodline, Breaking Bad, The Walking Dead e dei video di Madonna, New Order, Beyoncé and Lana Del Rey) ed è stata girata tra Marsiglia, Belgrado, il Montenegro e Londra.