Mancano ormai pochi giorni a Natale. E' inutile continuare a sperarci: nessuna profezia Maya vi salverà dalle corse dell'ultimo minuto alla ricerca del regalo mancante, dalle cene e dai pranzi che vi lasceranno sazi e un po' rimbambiti per il troppo vino, dai dolorosi pizzicotti sulle guance di zia Ada che vi chiederà ancora che classe fate quest'anno, nonostante abbiate finito il liceo almeno 3 lustri fa.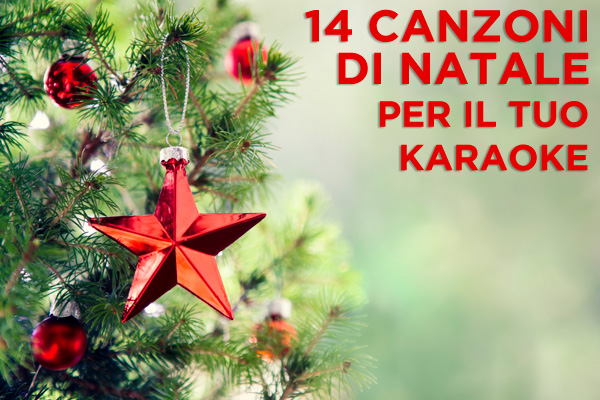 Ma soprattutto nessuna finta fine del mondo pronosticata da un ignaro popolo centro-americano vi salverà dalle CANZONI DI NATALE, cantate tutti assieme. Visto che il Karaoke natalizio è ineluttabile e piace ai bambini, tanto vale farlo per bene, con delle basi migliori rispetto a quegli orrendi midi che il cugino Beppe si ostina a riprodurre sul suo PC con Van Basco. Ve ne suggeriamo 14 in totale, nella speranza che siano un numero sufficiente a scontare anche questa consueta penalità natalizia.
Happy XMAS (War is Over)
Apriamo subito con un classico relativamente recente, vale a dire una delle canzoni pop natalizie per eccellenza. Registrata nel 1970 da John Lennon con la Plastic Ono Band e l'Harlem Choir, questa Happy Xmas (War is Over) è conosciuta ovunque e da anni fa parte del repertorio stabile di qualsiasi recita di Natale che si rispetti. Visto che di John Lennon si tratta, approfittate del Natale per impartire qualche lezione di "musica come si deve" ai cuginetti troppo piccoli per sapere chi fosse quel signore che portava gli occhialetti tondi prima di Steve Jobs.
Tutte le versioni Karaoke di Happy Xmas su Amazon Mp3 Store (imbarazzo della scelta: vi consiglio il primo risultato).
Adeste Fideles (Venite adoriamo)
Rientriamo subito nel seminato e prendiamo il secondo elemento della nostra lista dal repertorio religioso. Ci sarà inevitabilmente qualcuno che non si accontenterà di ascoltare Adeste Fideles durante la messa di mezzanotte ma vorrà reinterpretarla biascicandone le parole fra un morso al panettone e un'altro shortino di grappa. Accontentatelo e passate oltre.
Le versioni Karaoke di Adeste Fideles su Amazon Mp3 Store
Astro del Ciel
Pensavate di esservi tolti di mezzo il disturbatore di cui sopra con una semplice "Adeste Fidelis"? Vi sbagliavate di grosso. Dopo quel brano ne vorrà cantare un altro. Al che nonno Fausto, che non avrebbe dovuto ingurgitare quelle quantità di Barbera, si ricorderà di quel Natale 1971, quand'era militare, che con i commilitoni cantarono Astro Del Ciel insieme ai due poveri sfigati cui era toccata la guardia nella notte di Natale. Per evitare che prosegua con la storia che avete già sentito 102 volte, attaccate immediatamente la base.
Atro del Ciel (Stille Nacht) su Amazon MP3 Store, versione Karaoke
Santa Claus is coming to town
Dopo aver accettato le richieste del parentado, sarà il caso di riportare la situazione su binari più accettabili. Sfoderate la voce da crooner, affilate lo sguardo piacione alla Michael Bublè e lanciatevi in una inascoltabile versione di Santa Claus is Coming to town. Nessuno si accorgerà del vostro inglese smozzicato, a parte quel piccolo presuntuosetto del cugino Luciano (l'hanno mandato a studiare a Londra, hai capito, il principino) che farà delle facce strane e sorrisini sarcastici ad ogni vostro "auanasgana".
Versione Karaoke (con arrangiamento swing) – su Amazon Mp3 Store 
A Natale puoi
Già due canzoni in inglese? I più senili fra i vostri parenti cominceranno a mostrare insofferenza. Impedite che il tutto viri verso l'ora e mezzo di declamazione di poesie imparate all'asilo da fratellini e nipotini e cuginetti: lanciate un pezzo che la pubblicità ha sicuramente impiantato nelle loro giovani menti. A Natale puoi, di Alicia, meglio nota come "E' Natale, è Natale, si può fare di più" (Dillo al capo che non mi ha dato manco due giorni di ferie, mocciosetta). Uno di quei rari casi in cui le basi da Karaoke sono migliori dell'arrangiamento originale.
All I want for Christmas is you
"Ce l'hai quella di Natale di Maraia Cherri!?" E' la piccola Donatella, la figlia del cugino Roberto. Ha tredici anni e sta attraversando una fase strana: evita i One Direction perché si vuole emancipare dalle sue amiche (brava! sii originale!) e quindi finisce per rivangare teen idols del passato. Donatella, ma lo sai che ormai Mariah Carey (gli spiegate pazienti come si pronuncia) potrebbe essere tua nonna? Fa niente: accontentatela, poi fomentate questa sua vena di originalità musicale adolescenziale e datele il regalo che le avete comprato, un cofanetto con gli LP dei Led Zeppelin dall'1 al 4 e il DVD di School of Rock, insieme al depliant dei corsi comunali di chitarra elettrica.
Do They Know it's Christmas
Visto che a Natale non possono mancare i buoni sentimenti, tanto vale farli entrare alla grande nella vostra playlist del Karaoke con l'ormai classica "Do They Know It's Christmas", la canzone che Bob Geldof produsse e registrò assieme a Midge Ure nel 1984 con la partecipazione di molti cantanti famosi del periodo per raccogliere fondi in favore dell'Etiopia. Non vi preoccupate di fornire un background storico musicale sul pezzo, ci penserà Donatella.
Last Christmas
Visto che con l'ultimo brano avete fatto un salto negli anni '80, tanto vale restarci alla grande. In pochi (a parte Donatella) sanno che questo brano era originariamente destinato ad un uscita pasquale. Avrebbe dovuto chiamarsi "Last Easter" e non avrebbe avuto alcun senso. I discografici hanno consigliato bene gli Wham, che hanno accettato di trasformare il pezzo in una hit natalizia che ha sfondato ed è a tutt'oggi una delle più famose canzoni pop del duo. Ovviamente strappate il microfono (se ce n'è uno, altrimenti simulatelo con un cucchiaio) a chiunque lo abbia in mano e iniziate a cantare e ballare come se non ci fosse un domani, siate stupendi!
White Christmas – Bianco Natale
Il pranzo è terminato, c'è una generale sonnolenza. E' il momento di favorirla ulteriormente con questo classico intramontabile che potrete cantare sia in inglese, nello stile di Bing Crosby, oppure in italiano, alla Nicola Arigliano. In entrambi l'obbiettivo "addormentamento" sarà facilmente raggiunto, a meno che qualcuno non vi blocchi a metà urlando "QUANTI SIAMO PER LA TOMBOLA? CINQUANTA CENT A CARTELLA". 
Altre canzoni per il Karaoke di Natale 
Visto che le canzoni di Natale non sono mai abbastanza, eccovi una rapida lista sintetica aggiuntiva con altri brani per il vostro Karaoke natalizio, disponibili su Amazon Mp3 Store: