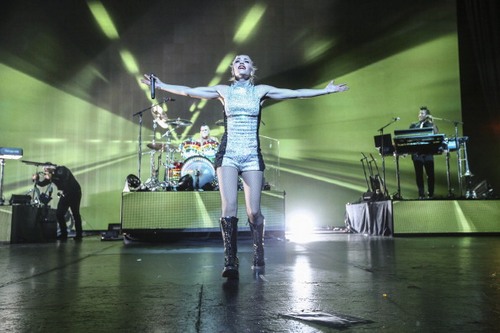 Niente concerti per i No Doubt nel 2013. La band di Gwen Stefani ha pubblicato un messaggio in cui annuncia di essere nel pieno dei lavori per la realizzazione del successore di Push and shove.
Mentre l'anno scorso eravamo in giro per il mondo per la promozione di Push And Shove, Gwen ha avuto avuto l'ispirazione di scrivere nuova musica. Nel mese di dicembre, in tutto il tempo degli spettacoli nella nostra città natale, abbiamo discusso l'idea di iniziare il 2013 tornando in studio insieme. Lo abbiamo fatto nel mese di gennaio e la nuova musica iniziato a fluire con facilità inaspettata. Dopo aver trascorso tre anni registrando l'ultimo album, questo nuovo ritmo ci fa sentire incredibilmente eccitanti.
Il quartetto di Don't speak ha così deciso di rinviare il nuovo tour mondiale a favore di un nuovo disco che potrebbe uscire molto presto. Probabilmente già nella seconda metà del 2013. Indiscrezioni parlano di Ryan Tedder chiamato a fare da produttore alle tracce di Stefani e company. Quindi, la band vuole farci credere che Push and shove non è il vero disco del come back?
Photo Credits | Getty Images