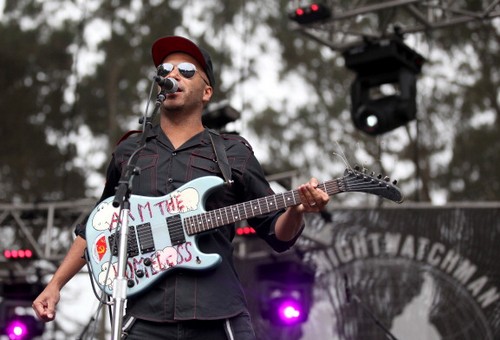 È tempo di festeggiamenti in casa Rage Against the Machine. La band, in occasione dei venti anni di attività, rilascerà un box set contenente rarità. L'uscita è prevista per domani 27 novembre, all'interno ci saranno demo, Dvd con filmati inediti e l'album di debutto del 1992. Il dvd sarà una vera e propria antologia filmata delle loro esibizioni: si va dal primo concerto (in versione integrale) al Cal State Northridge fino alla performance a Finsbury Park di Londra nel 2010.
Il chitarrista Tom Morello ha fatto sapere che di materiale esclusivo in questa nuova opera ce ne sarà molto, aggiungendo inoltre che si potrà ammirare l'intensità dei Rage degli inizi:
Una cosa bella nel guardare le cose in questo cofanetto è l'intensità dei Rage Against the Machine dal vivo che hanno sempre avuto. Non è come 'Oh, hanno ofatto molto ma molto meglio col passare del tempo.
L'ultimo album di inediti pubblicato dei Rage Against the Machine risale al 2000, anno in cui è stato rilasciato Renegaedes. Discorso completamente diverso se si considerano i dischi live e le compilation: in questo caso l'ultimo best of, The Collection, è stato pubblicato nel 2010 (con i quattro dischi in studio e il Live at the Grand Olympic Auditorium).
Photo Credits | Getty Images