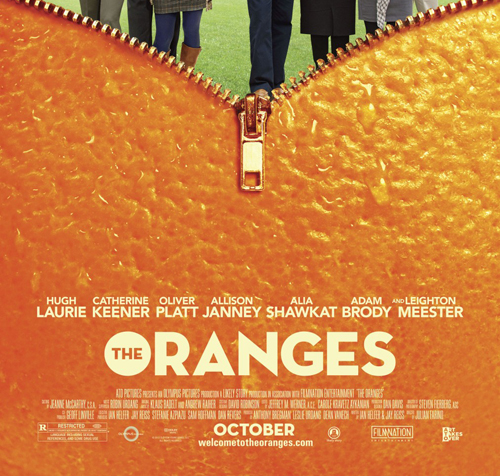 Titolo: Scusa, mi piace tuo padre
Regista: Julian Farino
Anno: 2011
Due famiglie da sempre in ottimi rapporti si trovano di colpo ai ferri corti non appena il capofamiglia dell'una ha una storia d'amore con la primogenita dell'altra. Una commedia amara dalla sceneggiatura tutt'altro che scontata, che vede tra gli attori Hugh Laurie, recentemente rimasto orfano del suo personaggio più famoso, il Dr. House.
The Oranges – La Colonna Sonora
Klaus Badelt ha spesso lavorato al fianco di Hans Zimmer, come nella trilogia de I Pirati Dei Caraibi con Johnny Depp. Ma si è anche mosso da solo, con produzioni difficili come Constantine (cui figurano, oltre a Keanu Reeves, il cantante dei Bush e marito di Gwen Stefani, Gavin Rossdale).
The Oranges: Original Motion Picture Soundtrack è composta da 13 tracce:
1. Facing the Sun – Treefight For Sunlight
2. Lay Down With You – Frazey Ford
3. Shoelaces – The Submarines
4. Sweet Defeat – Jon Allen
5. You Hung the Moon – Schuyler Fisk
6. Bitter Heart – Zee Avi
7. We Can't Stay Here – The Grand Nationals
8. Baby, It's Cold Outside (2011 – Remaster) – Dean Martin
9. Perfect Timing (This Morning) – Orba Squara
10. Winter Wonderland – Derlene Love
11. Come Home – The Grand Nationals
12. Bag Fight – Klaus Badelt and Andrew Raiher
13. Christmas Miracle – Klaus Badelt and Andrew Raiher
I Submarines sono una band rock indie californiana attiva dal 2004. Tra i loro pezzi più famosi figura Boys Don't Cry, cover tributo ai Cure.