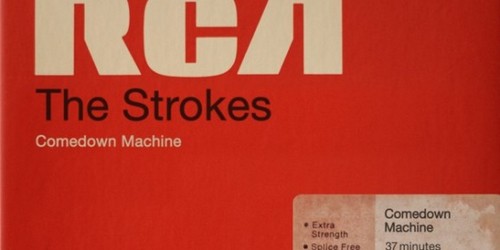 L'uscita del nuovo album dei The Strokes è ormai imminente. La rock band ha reso pubblica la data di uscita di Comedown Machine, ovvero il 26 marzo. Due i singoli che usciranno nelle prossime settimane: One Way Trigger (buzz single) dal sapore elettronico e All the time (lead single), di cui ancora non si conosce nulla.
Bocche cucite sulla tracklist e sul numero delle canzoni. In quanto alla durata del disco sappiamo invece che durerà meno di 40 minuti, questo perché la cover di Comedown Machine (in alto) con annessa durata totale è trapelata online per errore. La copertina è sfacciatamente anni '70 e allo stesso tempo minimalista.
Intanto One Way Trigger sta facendo discutere gli ammiratori di Julian Casablancas. La canzone ricorda non solo uno dei brani più famosi dei Manà, En el muelle de San Blás, ma riprende anche la loro Games contenuta nel precedente Angles. E poi come non citare il falsetto? C'è chi grida addirittura alla fine della carriera della band. Noi pensiamo che i ragazzi rispetto all'album del 2011 abbiano fatto notevoli passi avanti.