Torino, Bologna, Milano e Firenze le città interessate.
I Green Day tornano in Italia con ben 4 concerti a gennaio 2017. La notizia segue quella, apprezzata tantissimo, riguardante il nuovo album.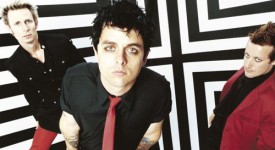 Proprio qualche mese fa Billie Joe Armstrong aveva postato una istantanea che lo raffigurava in studio facendo intuire che il terzetto originario di Berkeley stesse mettendo insieme le idee per dare un successore alla trilogia "Uno/Dos/Tres" pubblicata nel 2012.
Successivamente lo stesso Billie Joe, sempre mediante il proprio profilo Instagram, ha condiviso urbi et orbi un filmato che mostra studio, chitarre, mixer e un misurato Trè Cool alla batterie alle prese con una batucada brasileira.
Dopo la trilogia rilasciata tra il 2012 e il 2013, dal titolo Uno!, Dos!, Tres!, il gruppo si prepara a tornare sulle scene del panorama musicale internazionale con un nuovo progetto discografico. Già lo scorso anno, in occasione della loro introduzione alla Rock and Roll Hall Of Fame, il frontman dei Green Day aveva dichiarato che la band era già tornata a scrivere nuove canzoni, senza fornire alcun dettaglio su un'eventuale data di pubblicazione. Queste le sue parole: "Ci prenderemo il nostro tempo perché vorrei che il risultato finale fosse qualcosa di reale e ispirato".
Da quel momento in poi, i Green Day hanno continuato a lavorare senza far trapelare nulla attraverso i media o i social network. Il video pubblicato da Billie Joe il 2 aprile scorso è solo una delle prime immagini che anticipa l'arrivo di un nuovo album di inediti della stessa band.
I fan a partire dalle ore 9 del 9 settembre, potranno acquistare i biglietti. Nel frattempo sono state già rese note le date. Si partirà il 10 gennaio dal Pala Alpitour di Torino per poi spostarsi a Firenze il giorno dopo. Dopo una giornata di pausa, la band tornerà a suonare all'Unipol Arena di Bologna il 13 gennaio e il 14, infine, ultima data al Mediolanum Forum di Milano.
Qui sotto, tutte le date:
10 Gennaio Torino Pala Alpitour
11 Gennaio Firenze Mandela Forum
13 Gennaio Bologna Unipol Arena
14 Gennaio Milano Mediolanum Forum