In attesa del nuovo album, i 5 Seconds Of Summer rilasciano il loro primo disco live dal titolo "LiveSOS".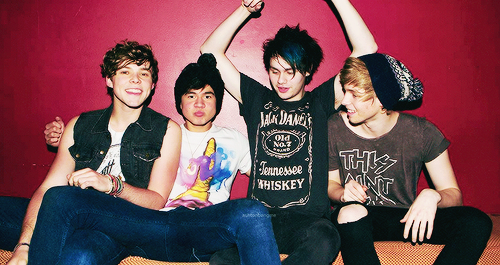 Questo disco arriverà il 15 dicembre, e si può ritenere un bel regalo di Natale per tutti i fan della band. La tracklist prevede 15 canzoni, tra cui certamente le hit di successo come "She looks so perfect" e "Amnesia".
Excited to announce our first ever live album, LIVESOS. You can preorder it this Sunday from midnight ! #LIVESOS pic.twitter.com/YvrLvypBoc

— 5 Seconds of Summer (@5SOS) 22 Novembre 2014
Questa la tracklist di LIVESOS:
1. 18
2. Out Of My Limit
3. Disconnected
4. Amnesia
5. Beside You
6. Everything I Didn't Say
7. Long Way Home
8. Heartache on the Big Screen
9. American Idiot
10. Teenage Dream
11. Good Girls
12. What I Like About You
13. End Up Here
14. She Looks So Perfect
15. What I Like About You (Studio Mix)
Queste le parole dei ragazzi.
Il nostro album LIVESOS è ora disponibile in preordine su iTunes e nel nostro negozio online ovunque. Ha 15 tracce registrate in diversi luoghi in giro per il Mondo.
Ricordiamo che anche l'Italia è stata toccata dal tour che la band ha fatto per l'apertura dei concerti dei One Direction.