Il cantante ex 883, reduce dall'esperienza come giudice di 'The Voice of Italy', partirà a giugno per un lungo tour estivo.
Esce oggi, venerdì 13 maggio Astronave Max new mission 2016, il nuovo album di Max Pezzali. Una sorta di versione ampliata di "Astronave Max" – uscito a giugno 2015 e certificato "Oro" per le vendite – con l'aggiunta di 2 inediti e 14 successi storici del cantautore, in versione live.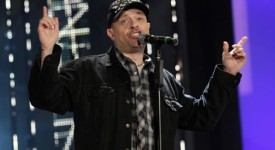 L'uscita dell'album è stata anticipata – in radio e nei digital store dal 29 aprile – dal singolo "Due anime", scritto insieme a Niccolò Contessa de I Cani (il lyric video ha superato quota 400mila clic e venerdì verrà pubblicata la clip ufficiale) e sarà seguità da un lungo tour estivo che prenderà il via il 29 giugno dall'Auditorium Parco della Musica di Roma e proseguirà con altre 10 date italiane: Firenze, Reggio Emilia, Padova, Pescara, Cattolica, Genova, Como, Milano-Assago, Udine e Brescia.
L'album è prodotto da Claudio Cecchetto e Pier Paolo Peroni con Davide Ferrario, e arriva in un momento di massima visibilità per Max Pezzali che dai primi di marzo si trova sotto le luci dei riflettori in qualità di giudice nella quarta edizione di "The Voice of Italy" (il talent della Rai, al fianco di Dolcenera, Emis Killa e Raffaella Carrà). Una grande soddisfazione per il cantautore che balzò agli onori della cronaca nel 1992 come voce degli 883 cantando l'assassinio dell'Uomo Ragno, e che durante le Blind Auditions del programma, quando i talenti dovevano decidere in quale team entrare, si è trovato letteralmente bombardato di giovani che volevano entrare nel "Team Pezzali" e che gli ripetevano: «Sono nato con le tue canzoni! Hai raccontato la mia giovinezza, le mie prime storie d'amore».
Ed è proprio nella giovinezza che la "leggenda Max Pezzali", una leggenda tutta italiana, affonda le sue radici: sono gli anni Ottanta, quando i due compagni di scuola del liceo scientifico "Niccolò Copernico" Max Pezzali e Mauro Repetto cominciano a scrivere canzoni, e nel 1989 arriva la prima occasione per mostrare il loro talento artistico, partecipando alla trasmissione "1-2-3 Jovanotti", condotta dall'allora emergente Lorenzo Cherubini, alias Jovanotti. I due si fanno chiamare "I Pop" (dal gioco di parole "Hip-Hop") e presentano un repertorio di brani in inglese (uno di questi intitolato Live in the Music) dalle sonorità rap.
La svolta però arriva quando Pezzali e Repetto fondano il progetto "883", incontrano Claudio Cecchetto e pubblicano il loro primo album "Hanno ucciso l'uomo ragno" (1992), che nel giro di pochissimo tempo raggiunge la prima posizione della Hit Parade con oltre 600mila copie vendute.