Uscirà al cinema, il 28 e il 29 aprile, "COBAIN: MONTAGE OF HECK", il documentario dedicato a Kurt Cobain, il leader dei Nirvana.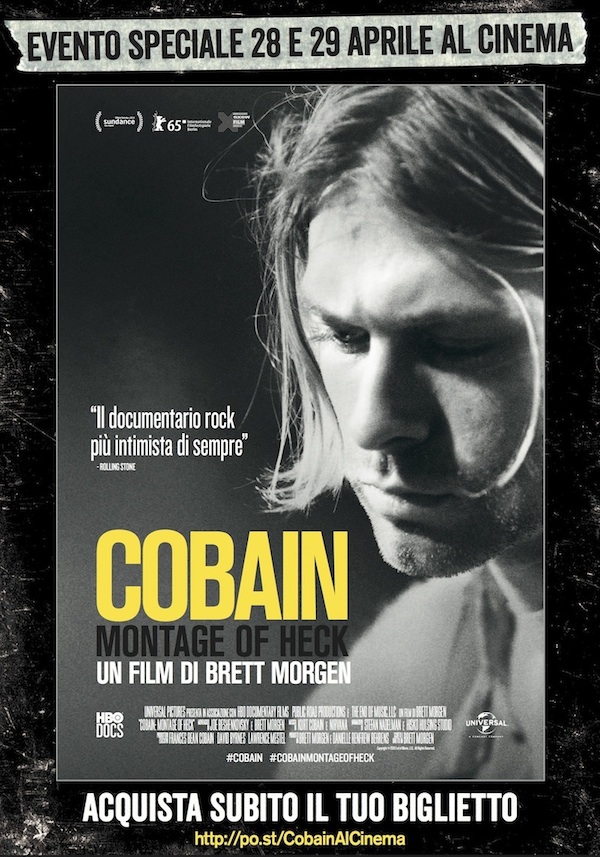 Kurt Cobain, cantante, chitarrista e autore dei testi dei Nirvana, rimane un'icona ancora dopo 20 anni dalla sua morte. "COBAIN: MONTAGE OF HECK" è un'immersione nelle viscere della vita e della carriera di Cobain, attraverso la lente di filmini casalinghi, registrazioni con i Nirvana, opere d'arte, fotografie e giornali.
COBAIN: MONTAGE OF HECK avvicina il pubblico alla vita, all'arte e all'anima di Kurt, creando un contatto indimenticabile con una figura capace di ispirare una generazione. Primo documentario pienamente autorizzato, il film raccoglie ed elabora lo smisurato archivio di Cobain, passando fra arte, musica (tanto le sue canzoni più famose che incisioni mai ascoltate prima), testi, riprese realizzate in casa, tutto combinato con animazioni e significative interviste di familiari e amici. Dai primi anni ad Aberdeen (Washington), seguendo il suo percorso musicale, lo sguardo del pubblico viene a contatto con la potente e intensa vita di un artista capace di gestire e modellare la propria immagine, anche se consapevole delle pericolose trappole della notorietà.

I coetanei di Kurt conosceranno aspetti della sua vita che non hanno mai saputo. Quanti hanno scoperto più recentemente l'uomo e la sua musica, capiranno cosa lo rende un'icona immortale.

Proprio come il leggendario cantante dei Nirvana, COBAIN: MONTAGE OF HECK è un lavoro autentico, intimo e risoluto, che entrerà nelle teste degli spettatori per rimanerci a lungo anche dopo la fine dei titoli di coda.