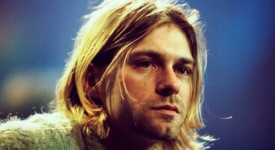 Ricordate il film The Wall del 1982? Il nuovo film su Kurt Cobain, a detta del regista, sarà come quello e ha la pretesa di essere la rappresentazione di quello che è stato Kurt negli ultimi anni prima della sua tragica scomparsa.
Sembra già di vederlo, questo film. Forse perché lo ha già fatto Gus Van Santdel nel 2005? (Il film si chiama Last Days e, per chi ha amato e ama ancora i Nirvana non è stato un grande capolavoro…)
Il regista di questa nuova pellicola è Brett Morgen, che ha lavorato a stretto contatto con Courtney Love, vedova di Cobain, per riuscire a realizzare questo progetto che non solo sarà un compendio della musica del leader dei Nirvana, ma che parlerà anche dei lati meno conosciuti di Cobain, come la sua passione per le arti visive. Per questo motivo il regista, nelle sue ultime dichiarazioni, sta paragonando il suo film a The Wall:
Speriamo che il film su Cobain, che verosimilmente potrebbe uscire nel 2014, possa diventare il The Wall di questa generazione. Un mix di animazione e riprese dal vivo che permettono agli spettatori di vedere Kurt in un modo mai visto prima.
Ma non solo. Per Brett Morgen il film su Cobain dovrà essere anche un modo per conoscere il vero carattere di quel giovane ragazzo con un innato talento musicale, la cui sensibilità estrema lo ha portato ad una morte prematura. Una rappresentazione del suo carattere e delle sue contraddizioni, della sua personalità e del suo modo di vedere il mondo.
Le premesse sembrano quindi essere le migliori, e, dato che Morgen si è già cimentato con progetti ambiziosi con dei buoni risultati (come Crossfire Hurricane il docu-film sui Rolling Stones), ci auguriamo che, questa volta, si riesca a rendere giustizia ad una grande e tormentata personalità, simbolo e bandiera di un'epoca.