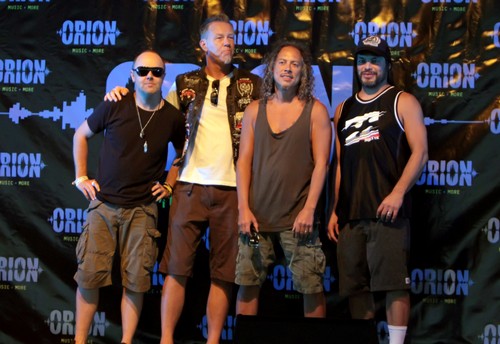 I Metallica sono pronti per un film su di loro.
La pellicola dovrebbe arrivare nelle sale il 9 agosto prossimo, ma non è una trattazione biografica della band. Infatti, sebbene la trama sia incentrata su live del quartetto, racconta le avventure di un giovane membro dello staff tecnico che viene mandato in giro per la città a svolgere un'urgente commissione, durante il concerto; ovviamente inciamperà in situazioni al limite della sopportazione e dell'immaginazione umana, tanto che la sua vita cambierà totalmente.
Se pure le sale lo proietteranno a partire dall'estate,  il titolo è già stato scelto: Metallica through the never. Il cast, oltre al gruppo metal più famoso al mondo, comprende l'attore Dane DeHaan (che i più ricorderanno per The Amazing Spider-Man 2, tra le altre cose), nei panni, appunto, del protagonista, ovvero un ragazzo delle crew alle prese con compiti improvvisi e una serie di disavventure che gli capiteranno una dietro l'altra, mentre il live, poderoso come sempre, andrà avanti, tra volumi sostenuti e lo spirito rock che caratterizza l'intera operazione.
L'ispirazione, o meglio lo spunto più vicino ad una scelta cinematografica di questa portata, pare sia il film sui Led Zeppelin, The song remains the same; ad ammetterlo è proprio il batterista dei Metallica, Lars Ulrich, che pone comunque anche i dovuti distinguo: "E' un vero e proprio film e c'è una parte di storia che non si svolge sul palco; ma la trama non si esaurisce tra le fila del concerto e non vede i Metallica come protagonisti: ci sono due vicende e due linee narrative separate".