In queste ore i One Direction non hanno lanciato semplicemente la loro nuova fragranza, "Between Us", ma pare sia spuntato dell'altro in rete.
Stiamo parlando di un brano, il cui audio è apparso sul canale Vevo dei One Direction, dal titolo "Saturday Night", realizzato in featuring con i 5 Seconds Of Summer.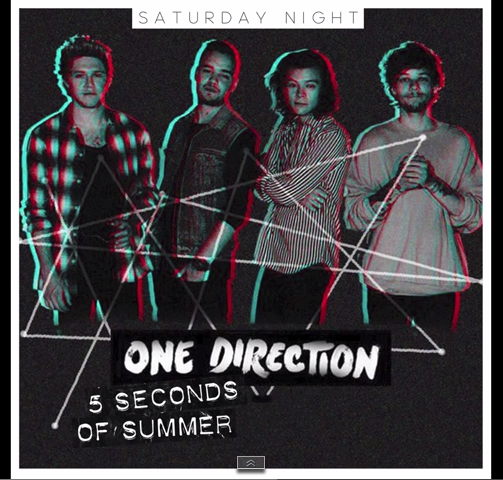 Ecco di seguito l'audio apparso su YouTube di "Saturday Night" dei One Direction ft. 5 Seconds Of Summer.
Potrebbe in effetti parlarsi del primo brano realizzato senza Zayn Malik e per di più con la collaborazione di un'altra amatissima band, i 5 Seconds Of Summer.
Al momento non c'è nessuna smentita o conferma ufficiale né dallo staff dei One Direction né da quello dei 5 Seconds Of Summer, per cui la speranza è che non si tratti di una bufala.
Intanto sta spopolando anche lo spot che annuncia la nuova fragranza della band, dove si vedono Harry Styles, Louis Tomlinson, Liam Payne e Niall Horan in vesti molto particolari e anche ironiche, per promuovere "Between Us". La boccetta sarà acquistabile nel Regno Unito già a partire dal 20 luglio, negli Stati Uniti, in Canada e in Danimarca dal 5 agosto e nel resto d'Europa da ottobre.