I Take That sono tornati in studio per dedicarsi alla registrazione di un nuovo album. La voce girava già da qualche tempo, ma adesso la notizia è stata ufficializzata da ben due dei membri di quella che è stata la prima boyband ad avere un successo planetario.
Parliamo di tanti fa, allora i Take That erano in cinque (Gary, Howard, Mark, Jason e Robbie): negli ultimi tempi li abbiamo visti in formazione ridotta, dopo che Robbie Williams ha fatto la saggia scelta di abbandonare il gruppo per dedicarsi alla carriera solita – i risultati li conosciamo bene – ma per questo nuovo album le cose potrebbero andare diversamente.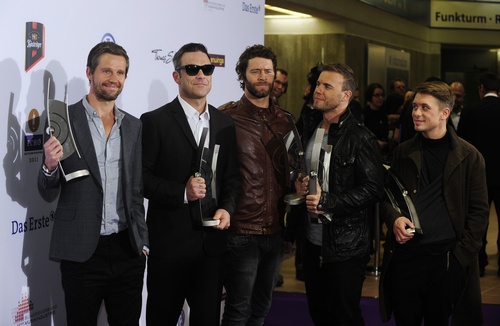 L'annuncio ufficiale del ritorno in studio di registrazione è stato dato via Twitter prima da Howard, che ha anche confessato che uno dei pazzi del nuovo lavoro è già quasi pronto, per poi essere confermata da Gary Barlow.
Quando un artista o una band annuncia l'inizio della lavorazione di un nuovo album, tutti si chiedono quale sarà la data di release dello stesso, ma non in questo caso, perché la domanda che i nuovi e i vecchi fan della formazione inglese è se questo nuovo album vedrà o meno la presenza di Robbie Williams.
La speranza è ovviamente di vederlo di nuovo insieme ai suoi vecchi amici, ma se così sarà lo si saprà solo alla fine di marzo, quando il bad boy della band dichiarerà ufficialmente le sue intenzioni.
Foto | JOHN MACDOUGALL/AFP/Getty Images