Tutti i grandi artisti si sono cimentati almeno una volta nel re-interpretare pezzi famosi di altri autori. Spesso sono semplici tributi che non eclissano il valore e l'importanza del pezzo originale. In alcuni casi particolari, però, una cover esce fuori meglio dell'originale, un po' come se il brano fosse stato scritto, in origine, proprio per quella voce e per quell'arrangiamento.
Ecco di seguito 8 esempi illustri: canzoni rifatte da altri che nella loro versione "B" superano di gran lunga l'originale, con una sola eccezione "complementare" (la trovate al quarto posto).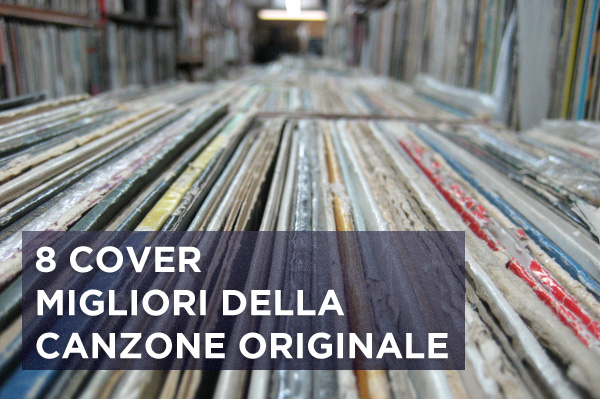 8 – I fought the law – The Clash
La versione originale di questa canzone, per quanto a scriverla sia stato Sonny Curtis dei Crickets, è quella resa famosa dai Bobby Fuller Four.
Questa cover dei Clash, che ci aggiungono la loro anima casinista britannica pur senza sconvolgere la struttura originale, funziona decisamente meglio dell'interpretazione precedente. Leggenda vuole che i Clash decisero di incidere il pezzo dopo averlo sentito nel jukebox di uno studio di registrazione in California.
The Essential Clash, su Amazon MP3 Store.
7 – Mad World – Gary Jules
Non so se la versione di Mad World che Gary Jules ha inciso per la colonna sonora di Donnie Darko sia più o meno famosa dell'originale dei Tears For Fears. So per certo, però, che è molto più bella. Più sentita, più classica e meno legata al periodo in cui è stata scritta (colpa dell'arrangiamento originale). In più, va detto, la voce di Jules la trasforma e la rende più eterea con il contributo del suo pianoforte.
Una recente interpretazione in duo con Curt Smith ne è la riprova definitiva.
La versione di Gary Jules su Amazon  Mp3 Store
6 – With a little help from my friends
Dire che una cover di una canzone dei Beatles è meglio dell'originale è sempre un po' rischioso (anche se Norwegian Wood nella recente versione di Crsby Stills e Nash è qualcosa di sublime). In questo caso si va sul sicuro, perché l'interprete della cover si chiama Joe Cocker e perché la sua versione di With a little help from my friends è pure più famosa della versione dei Beatles. Sicuramente è più soul, più "perduta", più intossicata. Insomma, più Cocker.
La versione di Joe Cocker, su Amazon MP3 Store.
5 – Somewhere over the Rainbow (Iz Kamakawiwo'ole)
Israel Kamakawiwo'ole (1959-1997) è famoso nel mondo principalmente per questa sua versione ukulele e voce del classico portato al successo da Judy Garland negli anni '40.
Il cantante hawaiano mescola il brano con What a Wonderful World, con un risultato incredibilmente efficace. E molto cinematografico, tanto che il pezzo è finito nelle colonne sonore di un gran numero di film e serie televisive, a partire da "Vi presento Joe Black" e "Scoprendo Forrester".
Somewhere over the rainbow, nell'album Facing Future, su Amazon MP3 Store.
4 – Woodstock – Crosby Stills Nash & Young
Joni Mitchell non si è mai davvero perdonata di non aver potuto partecipare al festival di Woodstock per delle stupide beghe contrattuali con la sua etichetta dell'epoca. Fu per questo, in sostanza che scrisse Woodstock, una canzone dedicata all'evento che fa tremendamente rimpiangere la sua assenza su quel palco. Sarebbe stata semplicemente perfetta. C'erano, invece, Crosby, Stills,  Nash e Young che della canzone incisero poi questa versione rock, corale e hippy, che a un testo semplicemente perfetto unisce un sound più adatto al tema, meno introspettivo come nella versione della Mitchell. Questa è l'accoppiata cover-canzone originale più complementare di tutta questa classifica, con la versione "rifatta" che trasmette ancora più significato all'originale.
Su Amazon Mp3 Store:
Woodstock di Joni Mitchell
Woodstock di CSNY
3 – Hurt – Johnny Cash
Trent Reznor dei Nine Inch Nails scrisse Hurt in un periodo di profonda depressione. E' un brano molto forte e denso. E' incredibile quanto di quel sentimento originali sia rimasto nella versione di Johnny Cash, che registrò il pezzo nel 2002 pochi mesi prima di perdere la sua June e ad un passo dalla sua stessa fine. Un testamento triste con le parole di qualcun altro, in una versione da pelle d'oca. La casa del video andò distrutta in un incendio nel 2007 ("you could have it all/ my empire of dirt"), generando così una di quelle inquietanti coincidenze che costellano il mondo della musica. Se guardando il video non sentite almeno un piccolo brivido o un accenno di commozione significa che siete clinicamente morti.
Hurt di Johnny Cash su Amazon Mp3 Store
2 – All Along the Watchtower
Bum bum bum bam bam bam; tun tun tun tan tan tan. Se conoscete anche soltanto alla lontana la discografia di Jimi Hendrix ci sono buone probabilità che leggendo la frase precedente vi sia suonato in testa l'attacco di All Along The Watchtower.
L'originale è di Bob Dylan, quel tizio, forse ne avrete sentito parlare, che ha praticamente insegnato a fare musica a tutti quanti negli anni '60. Questa versione, soprattutto per chi ha un anima più rock, è meglio dell'originale. Ma se non ci fosse stato quell'originale e l'autore dell'originale, beh, saremmo qui a parlar d'altro.
All along the watchtower in  "Experience Jimi Hendrix: The Best of Jimi Hendrix" – su Amazon Mp3 Store.
1 – Hallelujah – Jeff Buckley
In prima posizione in questa nostra classifica non poteva che esserci questo pezzo. La versione originale di questa canzone, scritta e cantata da Leonard Cohen, veleggia nel range dell'accettabile, con un bellissimo testo che la salva da un destino musicalmente banalotto.
Questa re-interpretazione ad opera del prematuramente scomparso Jeff Buckley, beh, che dire, è di un altro mondo. Una voce che ti strappa qualcosa dentro e la scelta di un accompagnamento di chitarra elettrica minimale e struggente. C'è poco altro da aggiungere per descrivere un simile capolavoro. C'è solo da ascoltarlo, ancora e ancora.
Jeff Buckley – Hallelujah su Amazon MP3 Store.
(Già che ci siete compratevi Grace Legacy Edition, che è meglio).