Il ritorno della coppia Zemeckis-Silvestri in un film non animato. Un volo aereo maledetto, un eroe alcolizzato e Gimme Shelter dei Rolling Stones.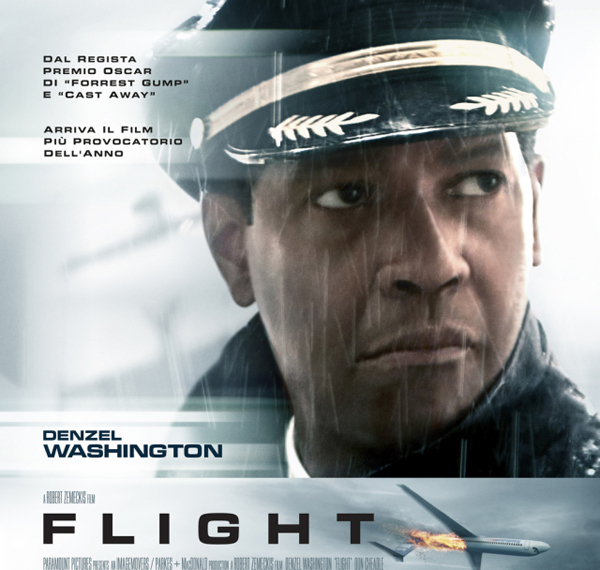 Titolo: Flight
Regista: Robert Zemeckis
Anno: 2012
Denzel Washington è in genere un nome di garanzia. Persino più affidabile di Robert Zemeckis (imperdonabile per La Morte Ti Fa Bella), o di John Goodman (che peccò con i Flintstones), o di 138 minuti di pellicola sui voli aerei. Whip è un pilota che scongiura un incidente aereo salvando centinaia di passeggeri. Ma è davvero un eroe o si scoprirà essere la causa del mancato disastro?
Flight – La Colonna Sonora
Alan Silvestri e Zemeckis sono un sodalizio inossidabile. Il musicista ha firmato gran parte dei suoi film, tra tutte le musiche di Ritorno Al Futuro. Come per molte colonne sonore, anche di questa pellicola esistono la versione score e la soundtrack, con pezzi dei Rolling Stones e Red Hot Chili Peppers.
Flight: Original Motion Picture Score di Alan Silvestri è composta da 14 tracce:
1 Opening
2 Nicole Leaves Hotel
3 Nicole Returns Home
4 Crash Site
5 The Old Farm House
6 News Report
7 Driving
8 Meeting's Over
9 The Letter
10 Whip's Mad Drive
11 Whip Inspects Room
12 Mini Bar
13 Because I'm an Alcoholic
14 I Need Your Help
Flight: Soundtrack è composta da 11 tracce:
1. Feelin alright – Joe cocker
2. Under the bridge – Red hot chilli peppers
3. Alcohol – Barenaked ladies
4. Sweet Jane – Cowboy Junkies
5. Gimme Shelter – The rolling stones
6. Ain't No Sunshine – Bill Withers
7. Sympathy for the devil – The Rolling Stones
8. What's Goin on – Marvin Gaye
9. Never get out of these blues alive – John lee hooker featuring Van Morrison
10. With a little help from my friends – Paul mccartney and John Lennon
11. Goin back down – Jeff Beck
Da segnalare Alcohol dei (o delle) Barenaked Ladies, gruppo indie punk salito alla ribalta per la sigla del telefilm Big Bang Theory.