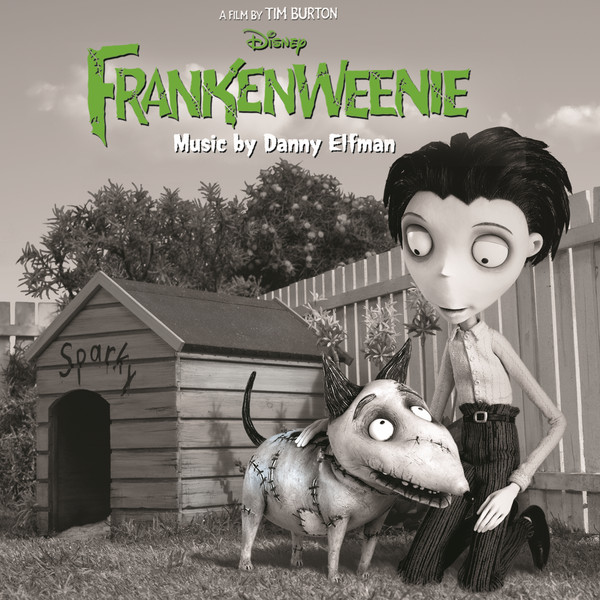 Titolo: Frankenweenie
Regista: Tim Burton
Anno: 2012
Il piccolo Victor perde tragicamente il suo cagnolino Sparky, e ispirato da un esperimento sulle rane decide di riportarlo in vita con il potere della scienza. I guai non tarderanno ad arrivare.
Frankenweenie – La Colonna Sonora
Il nome di Danny Elfman e quello di Tim Burton sono legati a filo doppio. L'uno ha reso immortale l'altro: le musiche di Batman sono sopravvissute a quasi 25 anni di film successivi, così come le soundtrack di Nightmare Before Christmas e Edward Mani Di Forbice. Elfman è famoso anche per le musiche dello Spiderman di Sam Raimi e la sigla della serie tv The Simpsons. Non molti sanno che il compositore americano è anche membro di una band che trae ispirazione da artisti come Frank Zappa e Spike Jones, gli Oingo Boingo.
Frankenweenie: The Original Motion Picture Soundtrack è composta da 22 tracce:
1. "Frankenweenie Disney"
2. "Main Titles"
3. "Mr. Burgermeister/Noses Meet"
4. "Game of Death"
5. "The Funeral"
6. "Electricity"
7. "Re-Animation"
8. "Sparky's Day Out"
9. "Dad's Talk"
10. "The Bride/Edgar Knows"
11. "Invisible Fish/Search for Sparky"
12. "A Premonition"
13. "The Speech"
14. "Mom's Discovery/Farewell"
15. "Getting Ready"
16. "Making Monsters"
17. "Pool Monsters Attack"
18. "Mad Monster Party"
19. "Final Confrontation"
20. "Happy Ending"
21. "Alternate Main Titles"
22. "Over the Fence"
Oltre allo score di Elfman esiste il cd Unleashed, che raccoglie le canzoni inserite nel lungometraggio, con artisti del calibro di Robert Smith dei Cure e gli emergenti Imagine Dragons.
Frankenweenie: Unleashed è composta da 14 tracce:
1. Strange Love – Karen O
2. Electric Heart (Stay Forever) – Neon Trees
3. Polartropic (You Don t Understand Me) – Mark Foster
4. Almost There – Passion Pit
5. Pet Sematary – Plain White T's
6. With My Hands – Kimbra
7. Everybody's Got a Secret – AWOLNATION
8. Immortal – Kerli
9. My Mechanical Friend – Grace Potter featuring The Flaming Lips
10. Lost Cause – Imagine Dragons
11. Underground – Grouplove
12. Building a Monster – Skylar Grey
13. Witchcraft – Robert Smith
14. Praise Be New Holland – Winona Ryder
Da segnalare Pet Sematary dei Plain White T's, pezzo storico dei Ramones già rielaborata dai Backyard Babies e (in tedesco) dai Rammstein.