Esce Post Pop Depression, nato grazie alla collaborazione con Queens Of The Stone Age.
Tutto è cominciato con un semplice sms. Era una notte del gennaio 2015. James Newell Osterberg Jr, per tutti Iggy Pop, scrive a Joshua Michael Homme, per tutti il signor Queens Of The Stone Age. "Ho delle idee su cui lavorare. Che ne dici di farlo insieme?".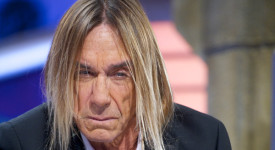 Tutto ha preso forma con una serie di mail inviate da Iggy a Joshua. Frammenti di testi. E soprattutto, note metodologiche. "Io e David Bowie lavoravamo in questo modo a Berlino, alla fine degli anni '70. Vorrei rifarlo ancora". Poi tre mesi a rifinire le parole. A distanza. Infine l'incontro. A sorpresa, con Iggy che si presenta a casa di Josh Homme: i due salgono in macchina e si dirigono verso Rancho De La Luna, uno studio di registrazione nel bel mezzo del deserto a est di Los Angeles. E oggi il risultato: Post Pop Depression. E Iggy il sopravvissuto torna ai confini del rock.
Innanzitutto: dire super-gruppo non rende l'idea, la definizione è inesatta, si sbaglia territorio. Perché qui non si tratta solo di due big star del rock che condividono per qualche mese una sala prove e uno studio di registrazione per mettere giù una manciata di canzoni che – il più delle volte, vedere alla voce recenti esperimenti di Jagger e affini – hanno il solo effetto di lasciare l'amaro in bocca ai reciproci fan. Qui si tratta di altro: di aggiornare il lessico del versante più oscuro, malato e decadente del rock. E a chi affidare questo compito se non a Iggy Pop, il sopravvissuto per eccellenza, e Josh Homme, ovvero Mr. Kyuss e Queens Of The Stone Age?