"On", nono lavoro della cantante, è un ritorno alle origini.
Elisa ha scelto di mettere da parte (quasi del tutto) l'italiano che sembrava diventato ormai stabilmente la sua lingua e torna all'amato inglese, quello con cui era diventata famosa a cavallo del millennio, quello di Pipes&Flowers e Asile's World.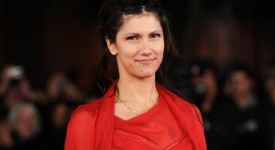 Una soluzione per tornare al pop di stampo internazionale ed elettronico. Ma On, il disco numero nove della sua carriera, in uscita venerdì, va indietro ancor di più, se è vero che una delle tredici canzoni (una delle più belle, perdipiù) è Love me forever, scritta nel 1992 quando era una fanciulla di 14 anni: «A casa ho tre bauli zeppi di brani inediti, per non dire delle borse che contengono mini-disc e cassette con i provini. Non butto mai via nulla, è un mio tic. Questa era scritta in stile Ronettes, con un wall of sound alla Phil Spector, era il disco giusto di rispolverarla».
A dire il vero, come la stessa star ha dichiarato, Elisa non ha mai abbandonato completamente l'inglese: a parte i singoli il resto nei dischi era sempre cantato in questa lingua. La verità è che questa volta è stata una scelta istintiva perché il pop si scrive più facilmente in inglese.
Così, la cantante sul titolo del disco:
Esprime uno stato d'animo. È un periodo che sono davvero felice, ho spesso voglia di ballare. La prima idea era Catch the light, ma sarebbe stato impronunciabile. PoiClic on, come sarcasmo di un mondo dove non si fa altro che cliccare. Alla fine On è più immediato. E ci abbiamo messo la foto di un gattino per ironizzare su tutti quei siti internet che campano con foto curiose e tenere di mici.