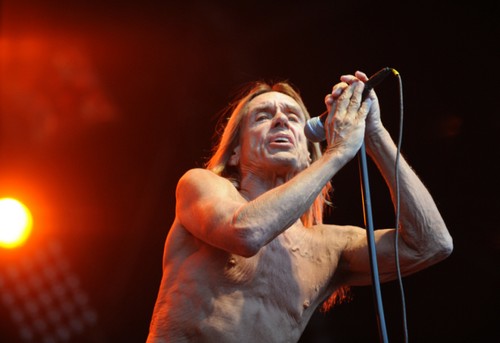 È tutto pronto. "Ready to die" sarà consegnato ai negozi il prossimo 30 aprile dalla Fat Possum Records, ma gli Stooges sembrano fremere più dei loro fan. Sarà ancora l'urgenza del punk mai spenta ad animarli? Se Iggy e la sua band avevano già pubblicato il loro singolo Burn su Soundcloud adesso partono alla conquista di un altro social network: Youtube.
Difatti sta circolando da qualche ora proprio lì il trailer ufficiale girato per l'album. Il protagonista della clip è ovviamente un ironico Iggy Pop, ai bordi della una piscina di una lussuosissima villa, con tante belle donne intorno, intento a parlare al telefono. L'iguana, soprannome che gli si addice ancora, racconta al suo interlocutore dall'altra parte della cornetta di avere problemi con l'etichetta discografica: "Non ho libertà artistica, non è una questione di soldi, è una questione di integrità", esclama, annunciando di voler abbandonare il mondo delle major in favore di un'etichetta indipendente come la Fat Possum, la label che in effetti pubblicherà il nuovo disco della sua band. Insomma una scenetta divertente che nulla aggiunge alle indiscrezioni riguardanti lo stile delle canzoni in uscita.
Del sound di "Ready to die" erano già trapelate diverse anticipazioni. "È un album alla vecchia maniera. È grezzo. Ci sono delle canzoni grandiose, ma non grandi ritornelli: loro sono l'anti Cristo degli inni. I testi sono perfetti, Iggy sa esattamente cosa dire: sta guardando il mondo intorno a sé", ha dichiarato Ed Cherney, collaboratore storico del gruppo.
Ed anche lo stesso Iggy, aveva parlato chiaro, con la scurrilità che gli è sempre appartenuta tra l'altro: "Le motivazioni che mi spingono a fare un nuovo disco con questa band, a questo punto, non sono più solo personali: è solo una mia cazzo di idea di fare ancora dei cazzo di dischi con un cazzo di gruppo anche se siamo diventati vecchi. Non è che saliamo a trastullarci su un palco solo per farci una barca di fottutissimi soldi".