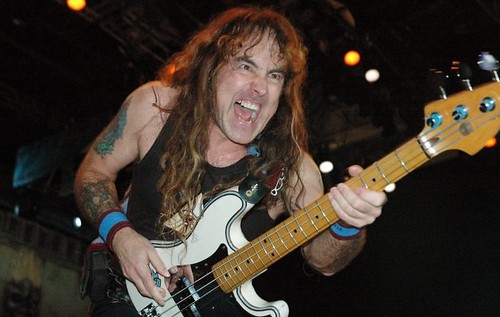 Dopo il successo del concerto dei System of a Down, che si è tenuto a Rho, il 2 giugno scorso, con ben 40.000 spettatori, il trionfo del Gods of Metal, con il tour d'addio dei Judas Priest, seguito da altri 15.000 spettatori e il debutto italiano del festival itinerante Sonisphere che, lo scorso 25 e 26 giugno ha raccolto ben 40.000 persone all'Autodromo di Imola, non c'è dubbio che il metal sta vivendo una stagione straordinaria.
A fare il punto della situazione è anche Steve Harris, bassista e fondatore degli Iron Maiden che, sulle pagine de La repubblica, si è espresso così:
Questa esplosione del rock duro in parte si deve proprio a festival come Sonisphere, sempre pieno di giovani. E' organizzato in tanti paesi ed è un evento fantastico. Spero si ripeta in tutta Europa anche in futuro.
Harris prova anche a spiegare perché così tanti giovani sono attratti dal rock duro:
Quando suoniamo, sentiamo la rabbia dei giovani, specie dei ragazzi in Italia, Spagna e Grecia. Trovano nella nostra musica, qualcosa che appartiene anche a loro.
Il prossimo appuntamento, di sicuro successo, sarà il Big Four, che vedrà riunirsi i Metallica, i Megadeth, gli Anthrax e gli Slayer, il prossimo 6 luglio, all'Arena di Rho.