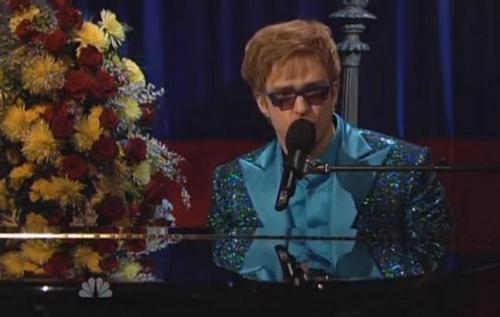 La macchina promozionale di The 20/20 Experience ha fatto tappa al Saturday Night Live. Justin Timberlake ha però fatto molto di una semplice esibizione, ha parodiato Elton John e ha preso in giro l'ex presidente venezuelano. Il cantante si è cimentato in una particolare esibizione di Candle in the wind (con tanto di pianoforte e giacca sgargiante) dedicata a Hugo Chavez. Per vedere il video in questione vi invitiamo a cliccare play a fine post.
In quanto al nuovo disco di inediti del marito di Jessica Biel, il pubblico ha potuto ascoltare le esibizioni di Suit and tie e Mirrors. Quest'ultimo brano è riuscito in pochissimo tempo a conquistare la posizione numero uno dei singoli più venduti in Uk. La canzone è infatti stata scelta come secondo estratto dal disco in uscita il 15 marzo, a breve dovrebbe essere realizzato il relativo video musicale.
Tutte le canzoni di The 20/20 Experience portano la firma dal fidato Timbaland. Il produttore intanto scalda i motori per tornare sul mercato discografico proprio entro questo anno con il terzo capitolo di Shock Value.