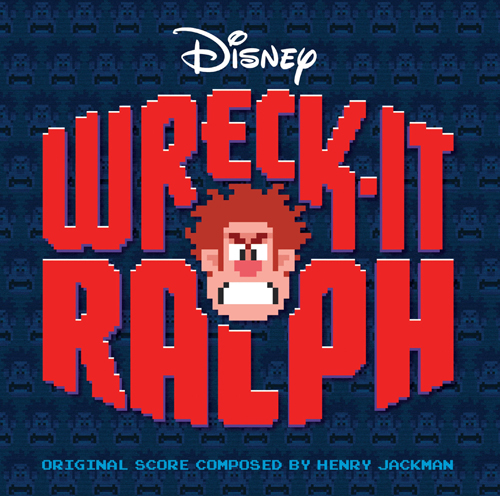 Titolo: Ralph Spaccatutto
Regista: Rich Moore
Anno: 2012
Un film dedicato agli appassionati di videogame di tutte le età. Ralph è il cattivo in un videogame a 8 bit che si è stancato di coprire un ruolo che non lo rappresenta. La sua voglia di cambiare metterà presto nei guai lui e tutto il mondo dei videogiochi.
Ralph Spaccatutto – La Colonna Sonora
Henry Jackman è noto soprattutto per aver composto le musiche di Kick-Ass, X-Men: Gli Inizi e La Leggenda Del Cacciatore di Vampiri. Come tastierista ha anche collaborato con Mike Oldfield e Elton John.
Wreck-It Ralph: Original Motion Picture Soundtrack è composta da 25 tracce:
1 When Can I See You Again?- Owl City
2 Wreck-It, Wreck-It Ralph- Buckner & Garcia
3 Celebration- Kool & the Gang
4 Sugar Rush- AKB48
5 Bug Hunt (Noisa Remix)- Skrillex
6 Shut Up and Drive- Rihanna
7 Wreck-It Ralph- Henry Jackman
8 Life in the Arcade – Henry Jackman
9 Jumping Ship – Henry Jackman
10 Rocket Fiasco – Henry Jackman
11 Vanellope Von Schweetz – Henry Jackman
12 Royal Raceway – Henry Jackman
13 Cupcake Breakout – Henry Jackman
14 Candy Vandals – Henry Jackman
15 Turbo Flashback – Henry Jackman
16 Laffy Taffies – Henry Jackman
17 One Minute to Win It – Henry Jackman
18 Vanellope's Hideout – Henry Jackman
19 Messing with the Program – Henry Jackman
20 King Candy – Henry Jackman
21 Broken Karted – Henry Jackman
22 Out of the Penthouse, Off to the Race – Henry Jackman
23 Sugar Rush Showdown – Henry Jackman
24 You're My Hero – Henry Jackman
25 Arcade Finale – Henry Jackman
Le musiche dei titoli di coda sono del gruppo idol giapponese AKB48, ma non mancano anche nomi noti in occidente come Rihanna e Skrillex, ultimamente balzato alla ribalta grazie a Breakn'a Sweat, pezzo contenente campionature inedite della voce di Jim Morrison (leader storico dei The Doors).